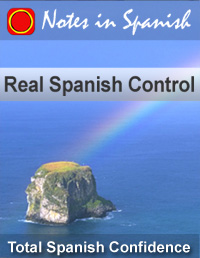 "It seems like Spanish speakers are talking way too fast – I really need to work on my ability to understand them..."
When hundreds of our listeners shared this same difficulty in a survey we sent out, we decided to create a new teaching pack to solve this very typical language learning problem.
Real Spanish Control is specifically designed for Inspired Beginners and Early-Intermediate Students who want to jump up a listening and comprehension level fast.
It goes beyond traditional teaching materials, as it combines cutting edge techniques to improve your listening comprehension, with real Spanish conversations, on real world topics.
Not only that, but it includes a carefully designed action-tracker to make sure you follow the course in the right order and know exactly where to go next to carry on improving.
Some of the things you'll be learning as you work through the audio in the first five modules:
A crucial technique for improving your main language acquisition and comprehension skills
A task to prove it works on the Real Spanish Conversation in each module
Key vocabulary related to each of the main real-world themes
One of our favourite 'secret' tips for accelerating your Spanish learning process.
Each module also includes:
The Real Spanish Conversation – 10 minutes of genuine, unscripted Spanish conversation between Marina and I on the main module theme, audio that won't be released anywhere else
More of our trademark, straight from the streets 'Real Spanish' phrases connected to each main theme
From the word go, the action tracker will lead you through the system to make sure you achieve the most from our 6 main modules.
The First 5 Modules: Real World Themes = Real World Understanding
We've chosen to work with 5 up-to-date topics that will prepare you for real-world conversation and listening situations, as well as the materials you'll encounter later as you move up through the higher levels of the 'Notes in Spanish' system.
The first five modules, including over 2 hours of exclusive new audio, cover the following themes:
Module 1 – Technology
Module 2 – Travel
Module 3 – Lifestyle
Module 4 – Environment
Module 5 – Culture
"Then you get to see how it all works together…"
Finally, when you are ready, we come to:
Module 6 – The Mystery Listening
In module six we take away the safety nets. No tips, no helping hand with the vocab. Here is where you put all your training from the first five modules to the test with another Real Conversation on an unannounced topic.
Don't worry, you cannot fail when you apply everything you'll have learned so far in the program.
The Worksheets: It's not just about the audio
The worksheets that accompany Real Spanish Control are the most complete we've ever put together. Each one contains the following:
A complete list of all the key vocabulary presented in the module's audio so you have a record to keep going back to.
A full transcript of the real Spanish conversation
A full translation of the conversation in English so you don't miss a single word or phrase
Exercises designed to improve your comprehension and to help you store the key words from the module in your memory, ready to access later in an instant!
Vocab Building exercises to increase your Spanish knowledge bank.
Homework – Don't skip it! It's designed to take you even further into the module's theme.
Making the Jump! Suggestions for other related audio at higher levels for you to listen to. (We also include extra worksheets from the higher levels so that you get to try out the techniques we are teaching you immediately.)
The "One Hour Private Lesson" Audio Bonus
Real Spanish Control addresses some of the most important questions raised by our listeners in our recent survey, mainly how to improve listening comprehension and confidence in tricky listening environments, whilst increasing your Spanish vocabulary.
But that still left a lot of other questions unanswered. We decided to do something about that too.
We sat down at our living room table and recorded answers to the most important questions raised when we asked you the following question: what would you most like to cover if you had a one hour private lesson with Ben and Marina.
In this extra hour of audio, we cover topics including:
Methods you can use right now for remembering lots of vocabulary
How to improve and advance your conversational skills
How to build confidence in speaking
How to sound more like a Spanish person and less like a tourist
How to keep a Spanish conversation going smoothly, seemingly without effort
How to start using a wider range of different tenses in conversation
How long you can afford to ignore the subjunctive!
Plus a range of somewhat "interesting" questions, including:
How real Spanish people talk about tragedies in the family(!)
Polite ways to ask spanish speakers to slow down or repeat what they say
How to roll your 'r's, even if you think you are beyond help
What to say if you need to complain about something in a restaurant
How to swear… but not too rudely
Why the 'c' word is so acceptable in everyday Spanish speech
Warning: As you can see, some "inappropriate" language is used in this bonus recording. Do not listen to this bonus audio if you are easily offended.
Who Real Spanish Control is Most Designed to Help
We put this together with both our Inspired Beginners, and Early-Intermediate Students in mind. If you fall into one of these categories then we strongly suggest you consider investing in Real Spanish Control.
1) Inspired Beginners
At the upper end of the beginners level it is common to start to feel frustrations setting in.
Real Spanish conversations are still a minefield (or a complete headache!), and you can sometimes feel you lack the vocabulary necessary to ever join in on a wide range of conversations.
The techniques we teach you in Real Spanish Control are designed to help with these exact problems.
You will be able to understand far more of Spanish conversations once you have completed the main modules, and your vocabulary will be vastly enhanced.
Our Intermediate level audio and videos will be instantly accessible, and we are pretty sure that those who really put these skills into practice will be able to start understanding some of the material at the Notes in Spanish Advanced level.
If you consider yourself an Inspired Beginner, then Real Spanish Control will be VERY valuable to you.
2) Early-Intermediates
The first steps at the intermediate level can feel like a whole new world… and, if you've been there for a while without much guidance, a bit of a sticking point.
As an early Intermediate student, you are able to participate in and understand a far wider range of Spanish conversations than when you started out as a beginner, but it's so easy to feel like you will never progress and make the leap up to Advanced.
That's where Real Spanish Control comes in. You will be able to use the skills we teach you to surge forwards into the Advanced Spanish learning world, and, more importantly, to far better survive all the tests real-world Spanish situations can put you through.
Frankly, we believe that Real Spanish Control will give you Spanish learning and understanding techniques that will ROCKET you to a higher level of Spanish.
What People Are Saying About Real Spanish Control
Indispensable… Loving Every Minute of it…

I'm deep into my Real Spanish Control studies and loving every minute of it. Even though you targeted it to Inspired Beginners and Intermediate students, I'm finding it very valuable. I usually listen to your Advanced podcasts, so I'm probably closest to the Advanced level. Even so, the Real Spanish Control package offers plenty of indispensable guidance and information. I think just about any fan of Notes in Spanish can benefit from it."

Linda Fineman, North Carolina, USA
I am suddenly leaping to the next level!

I ordered Real Spanish Control last fall, and I must tell you how wonderful it is, and that I am totally addicted to it! I hope you will come out with other things like this. Frankly, where can you get a great course like this, with audio, for this price. You have unwittingly stumbled upon a unique and marvellous way of learning a language. I now feel that I am having much more fun with Spanish — which means, of course, that I am suddenly leaping to the next level!"

Roxane, California, USA
How much does it cost?
The total investment for Real Spanish Control is just €47 Euros.
The real value of the program is MUCH higher, plus you are covered by our total guarantee:

Our Simple, No Hoops To Jump Through, No Risk, 100% 60 Day Money Back Guarantee
Real Spanish Control is covered by our 100%, no questions asked, no hoops to jump though, 60 Day guarantee.
If you aren't completely satisfied that Real Spanish Control has increased your ability to understand spoken Spanish, increased your vocabulary, and helped you to reach a higher level of Spanish, just get in touch and we'll give you your money back. It's as simple as that.

Order Now And Get Instant Access
YES Ben and Marina, please send me all the audio and worksheets in the "Real Spanish Control" pack PLUS the "One Hour Private Lesson" Audio Bonus as soon as possible!

Just click the 'Add to Cart' Button below, complete the whole payment process, and you will receive download instructions in your Inbox within minutes:
List Price: €67.00
Now: €47.00 Euros
<!—Exact total in $USD and other currencies confirmed at final payment stage)—>(We charge in Euros, but you can check the amount in US Dollars, GB Pounds and other currencies at XE.com)
All you have to do is to click on the Add To Cart button below, and complete all the steps in the payment process.
As soon as you are returned to our site at the end of the payment process, we'll email you instant access to the course so that you can download it and get to work straight away.