About Notes in Spanish
Notes in Spanish is designed to help you learn the real Spanish you'll never find in a textbook or classroom! It's run by Ben and Marina (more on us below!)
Our free Beginners, Intermediate, and Advanced Spanish-learning audio and podcasts provide authentic listening practice via completely natural conversations, covering interesting news, Spanish culture, current affairs, and travel.
We made the accompanying worksheet packs in our store to enhance and increase what you learn in the free audios, making you fluent and confident faster.
About Ben and Marina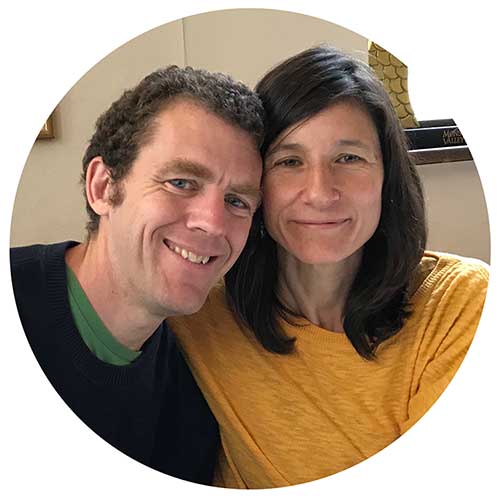 Ben Curtis and Marina Diez live in Madrid, Spain, and have been making on-line podcasts, audio and video since May 2005 (soon after podcasting was invented!), with over 40 Million worldwide downloads of our Spanish audios since then.
Notes in Spanish has been our main work since 2006, supported by the purchases in our store. Thank you!
Marina is an original Madrileña, born and brought up in the vibrant city of Madrid, where she worked for an I.T. company before leaving to work full time on Notes in Spanish. Apart from bringing her native-speaker Spanish knowledge to Notes in Spanish, she is also in charge of the design and development of our worksheets and supplementary materials.
Marina is also a passionate yoga teacher.
Ben is an Englishman, from Oxford, who came to Spain in 1998, and didn't speak a word of Spanish when he arrived! Lots of classes, intercambios, and listening to the locals on buses and in the street soon changed that, and today, amongst other things, he has worked as a Spanish-English translator and interpreter. He has also written and made podcasts about Spain for the BBC, Lonely Planet, and Fodors, and has written in Spanish for Solo Moto 30, a motorbike magazine.
Ben's original plan was to spend just one month in Madrid before moving to the coast – over 20 years later he's still there! (You can't beat Madrid! – Marina had something to do with it as well!)
How did we meet? During Ben's first year in Madrid he was an English teacher at an academy in the city centre. Marina attended English classes at the same academy. One day her teacher was ill, and Ben took over the class. Marina arrived early and we chatted for a while. That was all! Then, a few months later we bumped into each other in a Flamenco bar in Madrid late one Friday night. We started a language intercambio the following week… and the rest is history! Podcasts! Marriage! Kids! You can read more about all this in Ben's book Errant in Iberia.
In the press and interviews: Ben and Marina have been interviewed about Notes in Spanish in Spain's El Paí­s newspaper, and on Radio Nacional de España, M40, and Cadena Ser national radio stations. You can also find interviews with us on the When in Spain podcast and The Tea On show.
One of our favourite things… (apart from food, mountains, and beaches!) is the Notes in Spanish Newsletter – we use it to share new audios and videos, plus great, Real Spanish phrases from 'out on the streets' – all to help you sound incredibly good at Spanish! You've hopefully signed up already, if not, Sign up for our Newsletter now (you get our free, Spanish-boosting 'Kickstart Your Spanish' report too!)
Our greatest ambition is to help as many people as possible to learn and enjoy real Spanish. We hope you'll carry on listening to our audios for your Spanish level, and to progress faster, do check out the worksheets in our store. ¡Muchísimas gracias!
Charity: A percentage of all our sales each year goes to charitable organisations – to date we have donated over 45,000 Euros, and are currently supporting Aldeas Infantiles, a Spanish Charity focused on providing homes and family for children who can no longer live with their parents, and keeping vulnerable families together.