Notes in Spanish is designed to help you learn the real Spanish you'll never find in a textbook or classroom.
Whether you're listening to our free Beginners, Intermediate, Advanced or Gold Spanish-learning audio and podcasts, we provide authentic listening practice via completely natural conversations and interviews, covering interesting news, Spanish culture, current affairs, and travel.
A full description of our different free Spanish podcasts and audio can be found here.
The accompanying worksheets are designed to enhance and increase what you learn in the free audios. These can be found in our store. People that use the worksheets report that they learn much more Spanish, and progress faster.
[Please note that we are happy to support individuals who are unemployed or receiving benefits and are unable to afford our paid materials, with generous discounts or free packs from our store. If this applies to you, just contact us here.]
About Us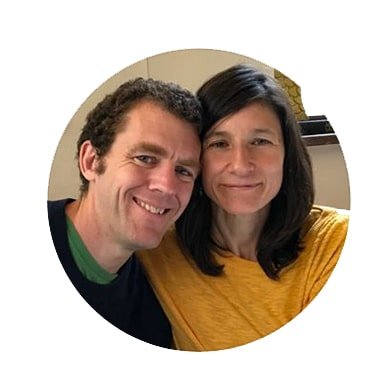 Ben Curtis and Marina Diez live in Madrid, Spain, and have been making on-line podcasts, audio and video since May 2005, with over 37 million worldwide downloads of our Spanish audios since then.
Notes in Spanish has been our main work since 2006, supported by the purchases in our store. Thank you!
Marina is an original Madrileña, born and brought up in the vibrant city of Madrid, where she worked for an I.T. company before leaving to work full time on Notes in Spanish. Apart from bringing her native-speaker Spanish knowledge to Notes in Spanish, she is also in charge of the design and development of our worksheets and supplementary materials.
Ben is an Englishman who came to Spain in 1998, and didn't speak a word of Spanish when he arrived! Lots of classes, intercambios, and listening to the locals on buses and in the street soon changed that, and today, amongst other things, he has worked as a Spanish-English translator and interpreter. He has also written and made podcasts about Spain for the BBC, Lonely Planet, and Fodors, and has written in Spanish for Solo Moto 30, a motorbike magazine.
In the press: Ben and Marina have been interviewed about Notes in Spanish in Spain's El Paí­s newspaper, and on Radio Nacional de España, M40, and Cadena Ser national radio stations.
Giving: Learn Real Spanish – Help a Child in Real Need
So far Notes in Spanish has been able to give over 38,000 Euros to charities that are important to us, including UNICEF, ACNUR (the Spanish division of the UN's refugee agency), and since 2018, Spanish children's charity Aldeas Infantiles.
With every purchase in our store, 5% of your purchase total goes to Aldeas Infantiles, providing homes and family for children who can no longer live with their parents, and helping parents and children in vulnerable families from being separated.
Where Can We Take You With Your Spanish?
You can join us at whichever level is right for you: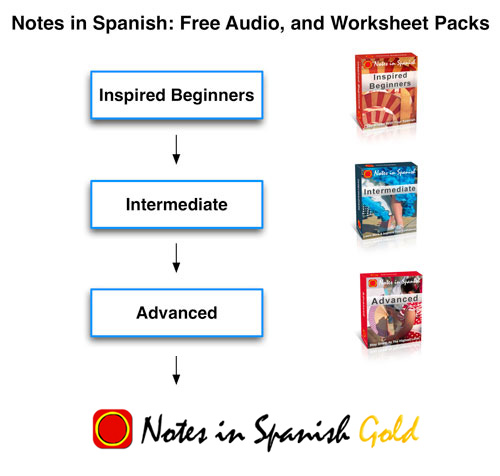 Click Here To Start Listening Now
Want to get even more out of our Spanish audio conversations?
Make sure you have signed up for our Free Real Spanish Newsletter and Kick-Start Your Spanish Report – Click Here Now For Details!