Learn To Speak The Real Spanish You'll Never Find in a Textbook or Classroom!​
Ben Curtis and Marina Diez live in Madrid, Spain, and have been making on-line podcasts, audio and video since May 2005, with over 40 Million worldwide downloads of our Spanish audios since then.
Our Spanish audio brings you authentic, real Spanish conversations about real-life topics, making you totally confident with your Spanish.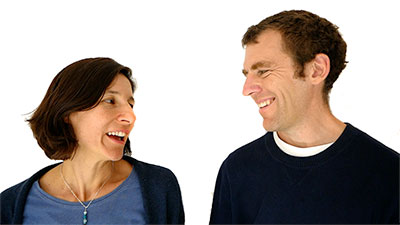 What Spanish learners are saying…
I would recommend this product to anyone who wants to speak Spanish authentically and with confidence.
This is simply the best resource on the web for audio in Spanish – let me recommend the worksheets.
My knowledge of current Spanish has improved immeasurably through your audios, but the real key to moving forward has been the worksheets…invaluable!
Listen here, or on your Phone as Spanish podcasts. Choose your level to begin:
Beginners Spanish Podcast
Ideal if you know a few basics and want to improve your Spanish really fast!
Intermediate Spanish Podcast
Natural Spanish conversations to improve confidence and fluency now.
Advanced Spanish Podcast
Learn more and stay sharp at the highest level, with real Spanish conversations.
3 Words for Ascuas Podcast
Fantastic straight-from-the-streets real Spanish words and phrases we love to share!
FAQ: "What should I do to MOST improve my Spanish?"
Listen to our audios, and get the right accompanying worksheets pack for your level, and if in doubt and you want maximum improvement, go for The Whole Enchilada, it's an insane deal that includes all our learning packs!
"…ended up getting The Whole Enchilada… I have gone from Inspired Beginner to practically fluent with the help of this program." – Kristi N.
"[The Whole Enchilada] is the single best investment I've made in my self-education approach to learning Spanish." – James R.
Grab The Whole Enchilada or the worksheets pack for your level now.