The worksheets in the "Advanced Season 1 Super Pack" reveal all the finest details in our Advanced Season 1 audio, helping you to achieve a bilingual level of Spanish, fast.
¡Hola Advanced Learner!
Being bilingual in Spanish might sound crazy, but it really is a goal that you as an Advanced learner can attain: it's exactly the level of Spanish we aim to help you reach as soon as possible.
With this in mind, these Worksheets are designed to deliver the wide range of Spanish language you now require, based on the huge variety of real-life topics covered in our Advanced Season 1 Audio.
Over 60 "Real-Life" Topics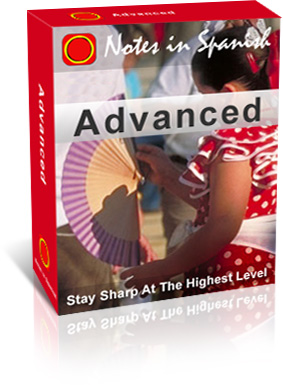 The Advanced Season 1 Super Pack includes all the worksheets produced to date for:
- Advanced Season 1, episodes 35 to 96*
(*Note: Advanced Season 1 podcasts 1 to 34 do not have associated worksheets.)
You will be getting all of the 62 great worksheets we've produced so far, covering everything from fashion, the internet, mobile phone abuse, the environment, office politics and multi-cultural relationships, to Fidel Castro, wine, stereotypes, blogs, and more.
I would recommed them to anyone

The advanced worksheets have helped with my Spanish hugely. I've dropped other learning techniques (text books) to concentrate my time on Ben and Marina's NIS podcasts and accompanying worksheets which are educational, accurate and interesting. I would recommed them to anyone wanting to learn Spanish and tired of text books. If you are wanting to speak Spanish to Spanish people and not simply order cerveza then these worksheets are perfect."

Paul Sheldon, Eastertown, UK
"Learn The Language Used By Spanish Speakers Today"
Each worksheet includes:
A full transcript of our conversation, so you don't miss a thing
Explanations of crucial, high-level Spanish words and phrases
Two useful exercises to reinforce what you're learning
Inspiring discussion questions to improve your fluency
These worksheets are packed with the real language used by Spanish Speakers today, meaning that you stay right up-to-date at the Advanced level.
There is so much in each worksheet

I have improved with every lesson and the worksheets provide me with loads of extra practice. There is loads of work on them, a full transcription, and exercises which are really stretching me! There is so much in each worksheet that it can keep your interest for a good while. BRILLIANT!!!!"

Janet Kendrick, Wiltshire, UK
I didn't hesitate to purchase the whole package

I learn Spanish as a hobby, started a few years ago first with a Finnish tutor and later with a native from Spain. Being just a hobby with a few lessons a year, I am very pleased to be able to use the language as much as I do today! I didn't hesitate to purchase the whole package of Advanced Worksheets. The amount of material is surprisingly large. I have noticed already how the audio and worksheets together help to improve my every-day vocab for common, up-to-date issues."

Ulla Kortelainen, Helsinki
The transcripts have provided me with a key to the content of the podcast which often whizzes by so quickly to the unrtained ear. It has enabled me to tune in to the way certain words and phrases are run together, and the inflection that is used, so that when I am involved in real conversation I am able to synthesise a higher volume of incoming Spanish at speed."

Gary Child, Barnsley UK
I realized that it was nearly impossible for me to study the Spanish being spoken in the streets, as people spoke fast, and I had a hard time understanding. I couldn't ask people to stop and repeat every other sentence. Notes in Spanish was the perfect resource. You learn the Spanish being spoken in the streets, and with the worksheets, you can follow along and know exactly what's being said."

Alex Lee, Los Angeles, California
Instant Digital Delivery Straight to Your Inbox
The worksheets in this pack are delivered in the universal PDF format. You will be able to start using these materials within minutes of completing the purchase process, when instant download instructions arrive in your Inbox.

Our Simple, No Hoops To Jump Through, No Risk, 100% 60 Day Money Back Guarantee
If during 60 Days from the date of your purchase, you don't think that using these materials with our audio has really helped to improve your Spanish, just let us know and we will give you a complete refund. We are so convinced that our materials will help you significantly improve your Spanish, that we are delighted to offer this 100%, 60 Day total money back guarantee.
3 Good Reasons To Get This Pack
You avoid missing out on any of the important vocab used in our highest level audio
You will learn the right, up-to-date words and phrases needed to talk confidently about any subject
You will reach a bilingual level of Spanish faster!

Order Now And Get Instant Access
YES Ben and Marina, please send me all 62 worksheets in the "Advanced Season 1 Super Pack" as soon as possible!

Just click the 'Add to Cart' Button below, complete the whole payment process, and you will receive download instructions in your Inbox within minutes:
List Price: €95.00
Now: €47.00 Euros
<!—Exact total in $USD and other currencies confirmed at final payment stage)—>(We charge in Euros, but you can check the amount in US Dollars, GB Pounds and other currencies at XE.com)