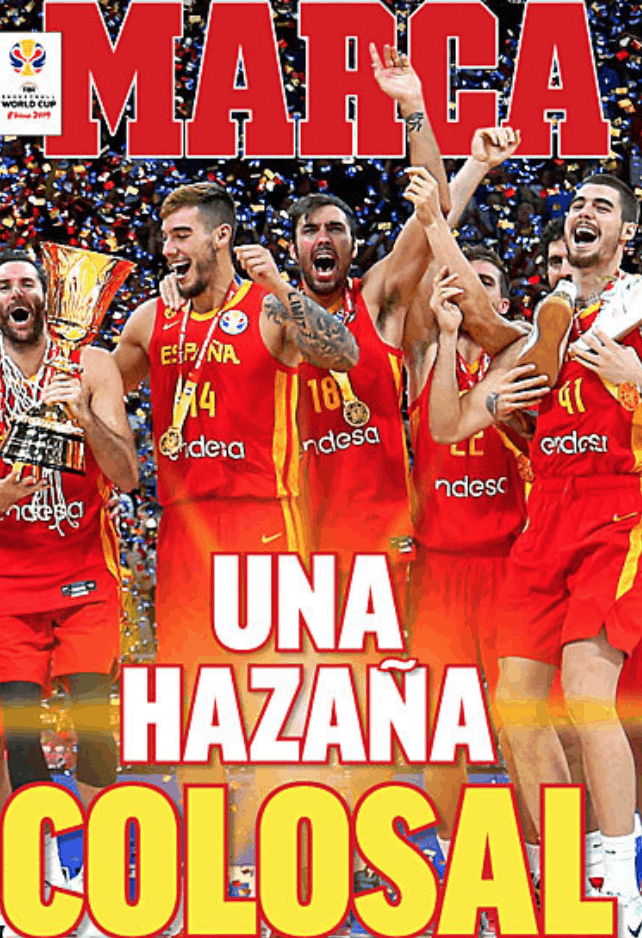 I've come across and rediscovered some wonderful Spanish this week. Spain won the Basketball World Cup, and the sports papers the next day were full of triumph and praise. This headline from Marca particularly caught my eye – "UNA HAZAÑA COLOSAL" – A colossal feat!
Hazaña – what a wonderful word! I'd never heard it before, not in 21 years in Spain! It's one of those words that I may never use, but I know at once that I'll 'collect' in my head anyway, just because it sounds so nice! It's so important to collect bits of Spanish that you just really like!
(By the way, we have a great Advanced-level podcast about Marca, the most widely-read paper in Spain, and it's only about sports – a real fenómeno!)
More real life Spanish…
We had to write to our daughter's teacher last night, saying she might not be in school today:
"…está con unas décimas así que lo más probable es que no vaya mañana viernes al cole y descanse en casa. Si se levanta como una rosa pues lo veremos, pero lo más probable es que se quede aquí."
Hmmm, plenty of subjunctives in there from those "lo más probable"s. (Why? See our Subjunctive Rule Book here!)
But there are a few bits of great real Spanish from the email that I want to share here:
…está con unas décimas – she has a bit of a fever. You can also say tiene unas décimas.
Si se levanta como una rosa… – If she wakes up feeling fine… In Spanish they literally say, "like a rose", in English we might say, "fresh as a daisy".
Here's another example from Google (HINT: Google is the best place to find examples of new phrases, just Google the phrase in quote marks, like this "está como una rosa"):
Tiene 80 años y está como una rosa – She's 80 and she's as fresh as a daisy
OK, some more useful, real Spanish from the email:
Si se levanta como una rosa pues lo veremos – If she gets up feeling fine (she did!), well, we'll see
Just as common as lo veremos is Ya veremos, or Ya lo veremos – We'll see
Here's an example again from Marca, on football:
¿Qué somos defensivos? Ya lo veremos mañana – Do we play defensively? We'll see tomorrow.
And if you want to say it sarcastically… here's some help from the Simpsons:
Want more great bits of real Spanish like this?
Pick any of our podcasts for your level, and in the accompany worksheets – get them in our store! – this is just the sort of Spanish we love to pick out and explain in a specially curated list after the full transcript of each conversation. There is so much of this wonderful kind of real Spanish to learn in the worksheets, it's what we most love to select and share! Enjoy learning it and using and collecting the bits you love!
Un abrazo desde Madrid,
Ben y Marina
If you enjoyed this, please do share this post with Spanish-learning friends who might like it too! And if you are new here, welcome! … and make sure you have signed up for our newsletter to get the next Real Spanish updates!