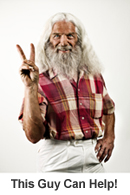 The single biggest stumbling block for all Spanish learners, is the 'dreaded' subjunctive.
Well, no need to dread it anymore! We've laid out all the subjunctive rules you need to know in this special report, as well as the simple secret that will soon have you using the subjunctive like a native speaker!
Please Note! If you are a beginner, don't worry! You don't have to tackle the subjunctive for a while yet – just save this report for later when you feel it's time to get to grips with it!
To download this special report, click on the link below. (If clicking on the link does not work, try right-clicking on the link, and selecting "save link/target as" to save the pdf to your desktop.)
Download: Super-Simple Spanish Subjunctive Rule Book PDF
Our very special report – soon the subjunctive will be second nature!