With 90 Minutes of Exclusive Audio, The "Real Spanish Phrase Book" Is Your Ultimate Guide To Speaking Real Spanish And Fitting In With The Locals Immediately!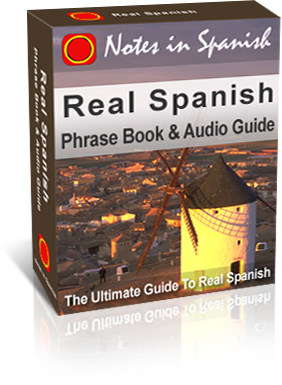 From: Ben and Marina in Madrid, Spain
¡Hola "Real Spanish" Learner!
At Notes in Spanish we are obsessed with bringing you the genuine Spanish being used right now, by real Spanish Speakers.
We really want you to be able to use these up-to-date, real-life Spanish phrases and expressions in your conversations, so that:
You sound really good at Spanish, really quickly


Spanish speakers respond to you so much better, when they see you using the real language they use every day


You don't sound like you learned your Spanish from a boring old textbook!
They couldn't believe the phrases I was coming out with...

I think that irrespective of someone's level of Spanish, there is always something new to learn, and this has certainly proved the case with your Real Spanish Phrase Book And Audio Guide! On a recent trip to visit friends in Barcelona, I managed to use a suprising number of expressions from your book, and my friends couldn't believe the phrases I was coming out with!

Neil Barnes, Translator/Interpreter
WARNING: These Phrases Will Make You Sound DANGEROUSLY Good at Spanish
With over 100 carefully explained real Spanish expressions and secret slang phrases, the text and exclusive audio files in the Real Spanish Phrase Book cover everything from being really fed up, to crying, lying, crazy people, typical Spanish sayings, addictions, food and drink, the weather, and much more!
"The Secret Is In The Audio"
We recorded so much useful audio to guide you through the use of each and every phrase, that we had to split our recording into three separate files! Over a total of 90 minutes we give you:
Key pronunciation tips
Context and tips about where and when to use the expressions (and when to be careful NOT to use them!)
Even more relevant phrases that don't appear in the accompanying book
The phrases and expressions are explained carefully in English, with pronunciation and extra example phrases in Spanish, making this ideal for Spanish learners at any level.
Brilliant, real language!

For me, the audio is the thing that sets the book apart. You get lots of sample sentences, brilliant, real language!"

Bridget Harper, Teacher, Ireland
Really Improve Your Spanish (Even If You Are Already Advanced)
It doesn't matter if you are a complete beginner or an advanced Spanish student. You can only improve by using more of the authentic Spanish spoken every day by real Spanish speakers.
Even if you have been studying Spanish for 20 years, we guarantee you will learn more from the interesting explanations in the audio files and accompanying phrase book.
Makes learning Spanish easy

The Real Spanish Phrase Book includes a delightful conversation between Marina and Ben about Spanish sayings and phrases used in everyday conversation. Their easy-going style makes learning Spanish easy and carefree. I often listen to it as I walk through the woods.

Molly Marten, Bemidji, USA
Totally Safe To Use... Mostly!
While none of the phrases in this guide are likely to land you in jail, a few are pretty hardcore! But don't worry, we've been very clear about letting you know just which phrases need to be used with great care!
Even my Spanish (and Mexican) friends like it

The book is great, and the audio makes it complete. Even my Spanish (and Mexican) friends like it - I highly recommend it!

Luciana Sarra, USA
I couldn't wait to download it

It's shown me that (just as there is in English) there's a way to speak Spanish, using really cool expressions, that one could never learn from any textbook. I couldn't wait to download it because I already knew - through Ben and Marina's many podcasts - that I was in for a treat. I wasn't disappointed.

Margot, Los Angeles
Leaves you feeling confident

It has helped me be more convincing in my Spanish conversations and hit back with fitting remarks during banter. There's nothing like leaving a Spaniard stunned with a well-placed colloquialism that they have never heard from a foreigner's mouth before!  Also, the detailed explanations and potential pitfalls of "misuse" of the phrases leaves you feeling confident about when to use them.

David Hall, Barcelona
Digital Delivery so you can start impressing people right now!
Our Real Spanish Phrase Book and Audio Guide is delivered digitally, as three mp3 audio files, and the accompanying PDF eBook. This means that you'll sound unbelievably good at Spanish within minutes of purchase, when you are automatically sent a download link straight to your inbox.

Our Simple, No Hoops To Jump Through, No Risk, 100% 60 Day Money Back Guarantee
If during 60 Days from the date of your purchase, you don't think that using these materials with our audio has really helped to improve your Spanish, just let us know and we will give you a complete refund. We are so convinced that our materials will help you significantly improve your Spanish, that we are delighted to offer this 100%, 60 Day total money back guarantee.
5 Good Reasons To Get It!
You can start speaking like real Spanish speakers do

Real Spanish speakers will really respect the effort you're making to use authentic phrases

You will learn how to pronounce these phrases perfectly, and just when to use them

This kind of language can't be found anywhere else (except out on the street in Spanish speaking countries!)

Spanish is a whole lot more fun when you can speak like the locals do!


Order Now And Get Instant Access
YES Ben and Marina, please send me the Real Spanish Phrase Book and Audio Guide as soon as possible!

Just click the 'Add to Cart' Button below, complete the whole payment process, and you will receive download instructions in your Inbox within minutes:
List Price: €69.00
Now: €47.00 Euros
<!—Exact total in $USD and other currencies confirmed at final payment stage)—>(We charge in Euros, but you can check the amount in US Dollars, GB Pounds and other currencies at XE.com)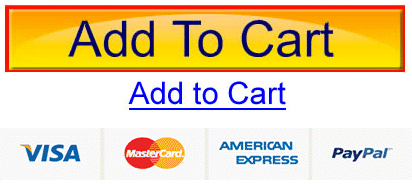 Wishing you huge luck with your Spanish (and lots of fun along the way!)

Ben y Marina

P.S. If you don't get an instantly great reaction from any real Spanish Speaker when you use the expressions in this book, we'll give you all your money back! It's as simple as that!

We've been collecting and using these phrases for years, so we know they are the real thing, and Spanish Speakers LOVE it when you use them in real life situations.

P.P.S. You may not have been exposed to this kind of Spanish before: watch out!


Helps you sound really fluent - fast!

It helps make conversations fun! The phrases are easy to memorise and I find myself using them in all sorts of situations. Instead of just saying a carefully (mentally) crafted sentence, I can embroider it with the Spanish that makes up real conversations rather than textbook exchanges. It helps you sound really fluent - fast!

Jan Gallon, Essex, UK