Hi dear Spanish-learning friends!
Os queríamos mantener al día – We wanted to keep you up to date… to share some great Spanish, send you some cool photos, and give you a Spanish-boosting challenge.
First: What's going on in and around Notes in Spanish HQ…
Ha hecho un tiempo estupendo en Madrid últimamente – The weather in Madrid has been fantastic recently – and we managed to have a wonderful lunch up in the sierra with friends on January 1st.
Check out this photo: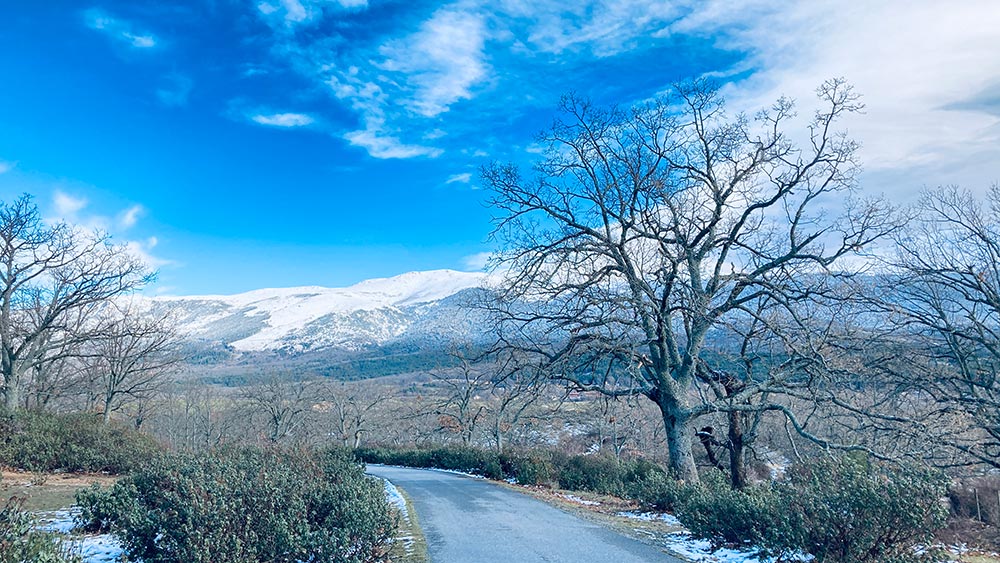 And here we are at lunch on the terraza (Jan 1st, not bad!)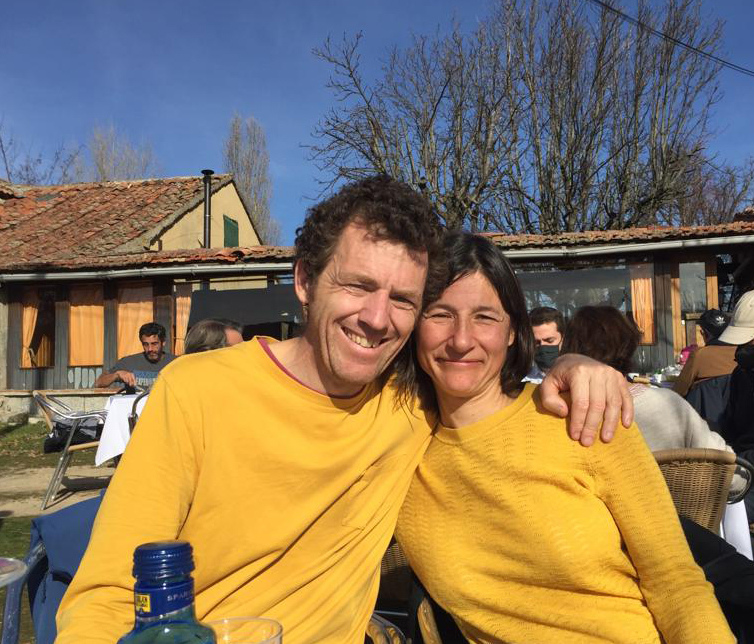 The colour coordination was accidental! As we said at the time this photo reminded us of the great Spanish phrase:
"Más vale una vez colorado que ciento amarillo" – better to get something off your chest/give someone a piece of your mind than hold it in and suffer again and again in silence (literal translation, "better once coloured than a hundred yellow")
Now, cut to one week later, and the same sunny Madrid Sierra looked like this: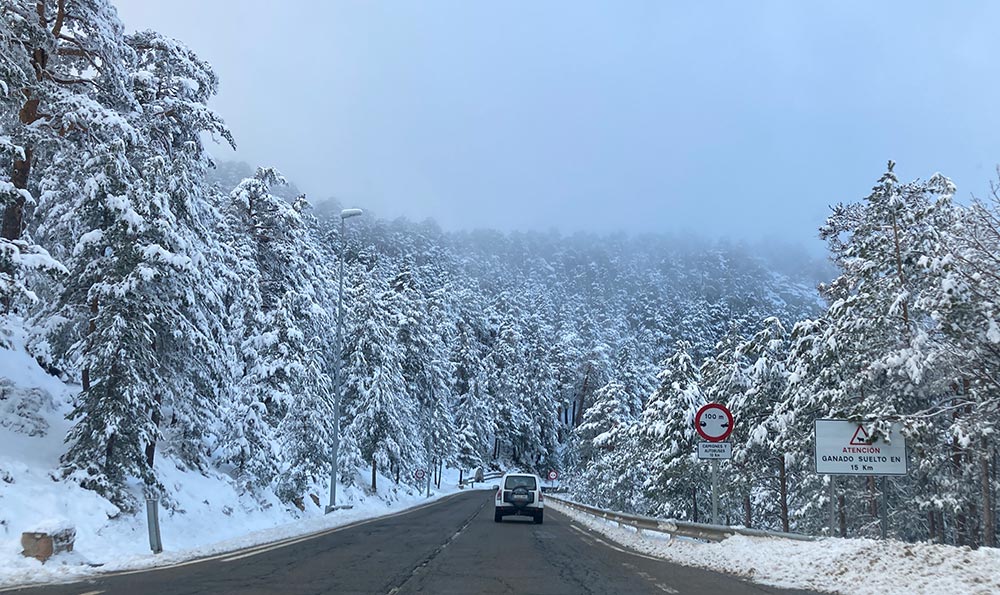 Marina said, "Hace un frío que pela" – it's absolutely freezing – literally, a cold that peels 🙂
So January in Madrid is pretty wonderful – snow on the mountains, and the occasional day you can have a long lunch on a terraza.
¡No nos podemos quejar! – We can't complain!
Latest Project News… (then the Challenge…)
Update on "The Notes in Spanish Coach":
The Notes in Spanish Coach (coming soon!) combines all our expertise on how to reach confident fluency fast.
We've recorded the first few video modules and are heading for an early/mid February launch date.
¡Nos está inspirando un montón! – It's inspiring US a lot
As Marina said today, just making this course to inspire you with everything we've learned about language learning over the past couple of decades is making our own language-learning experience so much richer again too.
As well as learning how to absorb Spanish better and reach confident fluency faster, you are going to learn a TON of real Spanish along the way (every module is recorded twice, in English and Spanish, so you get to choose, or watch both, and we share all our latest favourite words and phrases as we go along).
The first edition of the course will be open to a limited number of learners (so we can give you all dedicated attention), but if you entered your email in the survey to join the 'early bird' list to find out when it's ready, you're set. If you are subscribed to our newsletter, you're set too (sign up here if not).
Now: Challenge your Spanish level – jump up to the next one!
Enjoy listening to our podcasts for your level but (and this is really important) do try the level above every now and again, you may surprise yourself and be ready to jump up a level before you expected it.
Why not try today?
A massive help here is to use the worksheets. A small percentage of our most active, energised and independent learners use the worksheets with the podcasts and they learn faster and have a much richer real-Spanish experience.
Look at this super listener who started as a Beginner and has used them all the way to the top:
…it really does help massively to use the transcriptions [in the worksheet packs] alongside the audio. I've since purchased the Intermediate, Advanced and Gold packages and they're all just as good. There is so much great material to get through… Highly recommended! – Mark K.
¡Enhorabuena Mark, así nos gusta! – Well done Mark, we love it!
Using the worksheets is like having us by your side saying, 'this is the word or phrase you really need to pick up on here, use this to sound really good at Spanish right now' – we list them all in the 'key vocab' section in every workhseet. Don't miss these gems, they'll set your Spanish apart from other learners. Find the worksheet packs in our store.
(A note for our Beginners – Our Inspired Beginners Super Worksheets Pack now includes Real Spanish Control, specifically designed to help you up to Intermediate faster.)
Whatever your level, are you up for the level-jumping challenge? Get the worksheets in our store and try a level up – with the transcripts and the key vocab lists for every podcast, we think you might get a very pleasant Spanish-boosting surprise.
Un abrazo desde Madrid,
Ben y Marina
P.S. Any questions about levels and packs, just ask in the comments below 🙂