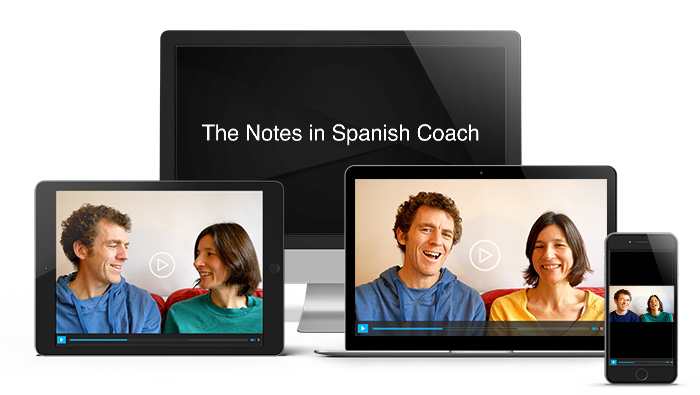 Hola dear Spanish learning friends!
Our latest project, The Notes in Spanish Coach, is open NOW for a limited time only!
(LAST CHANCE, WE'RE CLOSING TONIGHT, FRIDAY!)
You can check it out here right now
You'll want instant access to this brand-new 10 Module course (with 23 Videos!). The Notes in Spanish Coach distils our 17 years of experience in teaching real spoken Spanish to people all around the world.
It's designed to help you easily reach your full-fluency dreams, expressing yourself fluently and easily in Real-life Spanish conversations, in wonderful Real-life situations.
PLUS You get to join an exclusive on-line community of real-Spanish-loving peers where you get all your questions answered, AND you can join Ben and Marina LIVE online in exclusive 'Virtual Coach Cafés'!
Go here now to sign up:
Get The Notes in Spanish Coach
Note: Enrolment is limited so we can fully concentrate on helping all the super-motivated Spanish learners that sign up, with the special community and 'Virtual Coach Café' events.
Get The Notes in Spanish Coach Here
Un abrazo desde Madrid,
Ben y Marina
P.S. As we've been saying all month, this is probably the most exciting project we've ever produced, and we are tremendously excited to open it up to everyone.
We think it'll make a HUGE difference to accelerating your progress to fluency in real spoken Spanish.

Sign up now, nos vemos dentro – we'll see you inside: