Febrero 12, 2009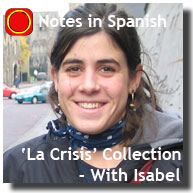 Many of you will know that while Marina is on maternity leave I've been working on some really interesting new audio with her old friend Isabel. Well, it's ready! I think you'll really enjoy these recordings, you can read the full story and find out all about the new pack here:
https://www.notesinspanish.com/store/la-crisis-collection.html
P.S. There's a big discount for those that get in early!
P.P.S. Marina may be on maternity leave, but I still pursuaded her to record a great new bonus for this pack!
Click the link to find out more:
https://www.notesinspanish.com/store/la-crisis-collection.html