Madrid, Spain
Hola amigos!
Notes in Spanish Gold Season One is an exclusive collection of 28 Real Spanish Conversations and accompanying Worksheets, including key Spanish language analysis in English.
Notes in Spanish Gold is about real, up-to-date, living Spanish. Each Gold episode is 20 minutes long – 10 minutes of our trademark 'Real Spanish Conversation' on fascinating new topics, followed by 10 minutes of key, Spanish-boosting analysis.

It is ideal for both keen Intermediate learners who are prepared to work hard to improve their Spanish fast, and Advanced learners who want to stay on top of this wonderful language.
The worksheets included in this pack, with the full transcript of our Spanish conversation, add huge value to this special format Gold audio.
Also included are 7 powerful Q and A sessions, where we answer common (and not-so-common!) doubts about the Spanish language, and offer key Spanish-learning advice.
Private… Until Now!
Developed quietly over a 6 month period, Notes in Spanish Gold was so well-received by the small group of private members that initially had access, that we decided we had to open up this ground-breaking 'Real-Spanish-Plus-Analysis' approach to all our listeners.
Here's what one Gold Season One Member had to say in a comment on the private Gold Season One Members blog: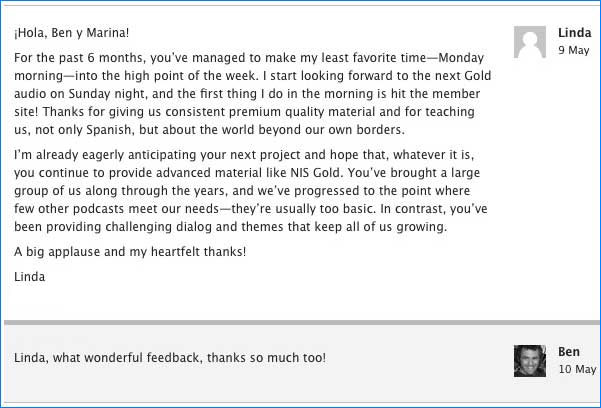 The initial 6 month private Notes in Spanish Gold Season One program is now complete, and Gold Season One is finally open to everyone.
In just a few minutes you'll have access to the private Gold Season One Members Blog, the 28 revolutionary Gold Audios and accompanying worksheets Linda refers to above, and 7 Spanish-boosting Q and A sessions.
Notes in Spanish GOLD Season One – The Audio
In the first 10 minutes of each episode, you get to hear a fascinating, real-world Spanish conversation, just like the very best of our intermediate and advanced audio you already know and love…
But this is fresh, alive, and right up-to-date!
We've covered news, tech., psychology, culture, travel, social issues, the environment – with so much audio already behind us, we really know what makes a fascinating Spanish conversation now!
The second 10 minutes of each episode is the all-new analysis section. We don't just pick out the best language from the audio you just heard, we expand on it with extra, real-world examples, expanding your Spanish horizons at the same time.
Each 20 minute episode of Notes in Spanish Gold is, and excuse the pun, a Complete Spanish Gold Mine!
Does the new 'analysis' audio work?
In the survey for the pilot episode of Notes in Spanish Gold, you can imagine that we were really keen to know what people thought of the brand-new, second-half 'analysis' section of the audio.
We got feedback from people all over the world, and here's what they said: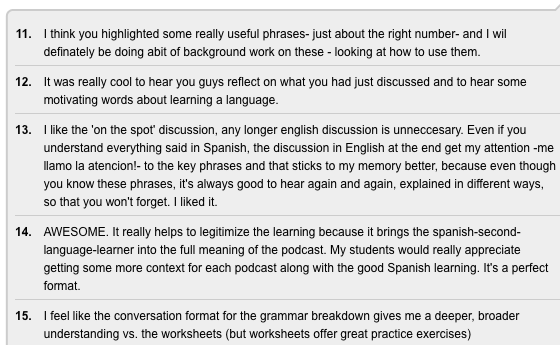 …with reference to the last comment:
Here's The Key: You Get Our Great Worksheets Too!
With every episode of Notes in Spanish Gold, we include our famous worksheets, including a full transcript of the Spanish conversation, plus a breakdown of the words, phrases, and grammar from the analysis section, and useful exercises. This will make ALL the difference to your understanding of the audio, and really enhance progress with your Spanish.
PLUS: Notes in Spanish GOLD – Q and A
As well as the 28 Gold Season One Audios, there are seven 20+ minute question and answer sessions, where we answer listener queries about many aspects of the Spanish language and learning experience.
Past experience has shown that listening to the answers to other learners' questions is an incredibly valuable part of the Spanish-learning process.
So You'll Be Getting:
Fast Access to all 28 Gold conversations, to keep your Spanish positively moving forwards.
Close access to Ben and Marina through the invaluable Q and A sessions.
Worksheets for every Gold Season One audio, with full transcripts so you never miss a new word or phrase, plus really useful notes and exercises.
What This Will Do For Your Spanish:
You'll find Spanish inspiring again as we invigorate your learning with this topical material.
You'll stay on top of Spanish that's being used right now in the real Spanish-speaking world.
Learning Spanish is going to become even more exciting than before!
Your Big Bonus: The Mega Q and A!
We've added the longest Q and A session yet! 48 minutes of our detailed answers to some of the most interesting, and frankly, fun questions we've ever received from listeners.
The Mega Q and A covers everything from dreaming in Spanish, to the origins of names like Paco and Pepe, the difference between the Spanish and English sense of humour, subjunctive 'If' phrases, sports vocab, useful phrases for on-line intercambios, jokes in Spanish and much, much more.
This bonus alone contains a vast amount of useful and inspiring Spanish-learning content!
More Cool Things Waiting Inside…
As well as all the Gold audio and Q and A sessions waiting for you when you first sign in, we've also included a 'Useful Stuff' and 'Tools' section, with every one of our past Special PDF Reports, Vocab and Verb learning tools, and more!
Instant Access, Instant Download Delivery
All these great materials are downloadable, right-now, in your private Gold Season One Members Area, so you don't have to wait for anything to turn up in the mail! You can transfer the new audio onto your iPod or Mp3 player in minutes, or listen right here on the web.
The big question now, is:
Who Is Notes in Spanish Gold Season One Really For?
1) Advanced Learners
This is exactly what you've been asking us for all along!
Notes in Spanish Gold brings you more of what we do best, and what you most benefit from. These are the real Spanish conversations that you just don't find anywhere else, and the worksheets mean you don't miss a single word of what's being said!
You'll be keeping abreast of the living Spanish that's out there right now, making sure you stay confident, and fluent, while continually learning important new language.
2) Intermediate Learners
There is no doubt that for a while this is going to feel like hard work for you – this audio is high-level, and it will definitely be a challenge, but that's just what you need to progress fast! This is the level where the worksheets with the full Spanish conversation transcript are really crucial.
To progress, you have to test yourself, just as if you walked into a Spanish household today and had to deal with it the best you can. But with the full transcript on hand, we'll be there every step of the way, accompanying you word by word.
The first time you listen to the Spanish conversations it's going to be tough, but after listening to our discussion in part 2, and using the transcripts in this pack, when you go back through the Spanish conversation again, it's going to be a whole new advanced-understanding experience.
And that experience will reflect in an improvement in all areas of your Spanish.
3) Inspired Beginners
To be honest, the Spanish section of the audio is going to be really tricky for you if you are just used to the Inspired Beginner conversations. If you are willing to take a risk, then yes, you have the transcripts to work with, and the language analysis in each episode WILL be valuable for you (as will the Q and A sessions).
If you are a Very Inspired Beginner, then yes, you can benefit from this – but we'll leave it up to you to decide if are ready to take such a big step.
What Previous Gold Members Are Saying About Notes in Spanish Gold:
I'm sold on gold!!!

I'm sold on gold!!! … I decided to give it a try since I have been so pleased with everything I have gotten from Notes in Spanish. The audio is a bit challenging for me, but having the worksheet makes it possible for me to follow along. I believe that these materials are really going to help me build my Spanish skills. I'm very excited about this. Great job Ben & Marina!!"

Lisa, Comment on the Gold Members Blog
This is great…

This is great. I was a little disappointed when I moved over from the beginners to the intermediate audio of your earlier podcasts, as the intermediate level doesn't include the valuable analysis and information that was present in the beginners episodes. Well, you've now filled that gap. Thanks!"

Daniel, Comment on the Gold Members Blog
Fenomenal! Me encanta.

Fenomenal! Me encanta. Un buen desarrollo!. For me as borderline intermediate/advanced – I can understand quite a bit – but there are some challenging sections to work on! Great vocabulary and interesting subject material. Length just right to maintain interest and I love the discussion format – really useful."

Judith, Comment on the Gold Members Blog
OK, How Much Is It? The Investment for Notes in Spanish Gold Season One:
The investment for Notes in Spanish Gold Season One is just €47 Euros. The real value of the exclusive Gold program is MUCH higher (this is the biggest, most powerful single product we've ever developed) – but for now we are dedicated to maintaining the incredibly low price of just €47 Euros.*
*Please Note: The exact total in $USD and other currencies is determined by current exchange rates, and will be confirmed by Paypal at the final payment stage.

Our Simple, No Hoops To Jump Through, No Risk, 100% 60 Day Money Back Guarantee
If during 60 Days from the date of your purchase, you don't think that using these materials with our audio has really helped to improve your Spanish, just let us know and we will give you a complete refund. We are so convinced that our materials will help you significantly improve your Spanish, that we are delighted to offer this 100%, 60 Day total money back guarantee.

Order Now And Get Instant Access
YES Ben and Marina, please send me the entire Gold Season One Pack now!

Just click the 'Add to Cart' Button below, complete the whole payment process, and you will receive download instructions in your Inbox within minutes:
Now: €47.00 Euros
<!—Exact total in $USD and other currencies confirmed at final payment stage)—>(We charge in Euros, but you can check the amount in US Dollars, GB Pounds and other currencies at XE.com)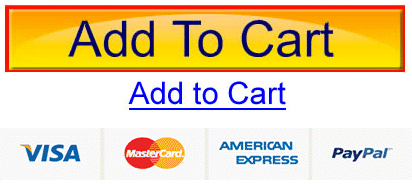 ¡Nos vemos dentro! – We'll see you inside!
Ben y Marina
P.S. The Gold Audio, Worksheets, and Q and A sessions are probably the most valuable Spanish-learning experience we've ever offered.
Join us in the Gold Season One Members Area and start benefiting from the great new material and bonuses that are waiting for you inside right now.