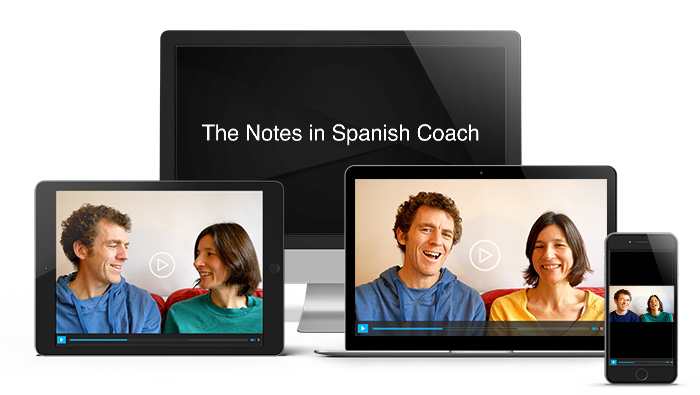 The Notes in Spanish Coach is a unique 10 Module (24+ Videos) course designed to help you easily reach full Spanish fluency, understanding everything (even the 'rapid blur' of native Spanish speakers) and expressing yourself fluently and easily in Real-life Spanish conversations.
We – Ben and Marina – reveal all the secrets of effective Spanish learning and fluency that we've learned from a decade-and-a-half of being pioneers and industry leaders in the online Spanish-learning space – our podcasts have had over 40 million downloads since 2005, and over 25,000 Spanish learners have bought our programs in our store.
We're getting great feedback on our 'Coach' program:
"Thanks so much for 'The Notes in Spanish Coach!' It's really useful, and fun as well. The conversations between Ben and Marina are interesting and a pleasure to listen to. I love the videos and the advice is really powerful."
"I've just started the Motivation module and I'm delighted. You are like magic. It's worth every cent to be able to know you better and to make the most of your lessons. Thank you, Amie."
---
Here's the good news, even though enrolment for The Notes in Spanish Coach program is currently closed, if you sign up for reminders via the link below, you'll be the first to find out next time it is open, later this year.
Plus, in the meantime we'll be in touch via our newsletter with more of our valuable Real-Spanish videos and audios, packed with the up-to-date, real Spanish we've been sharing with millions of Spanish-loving learners since 2005.