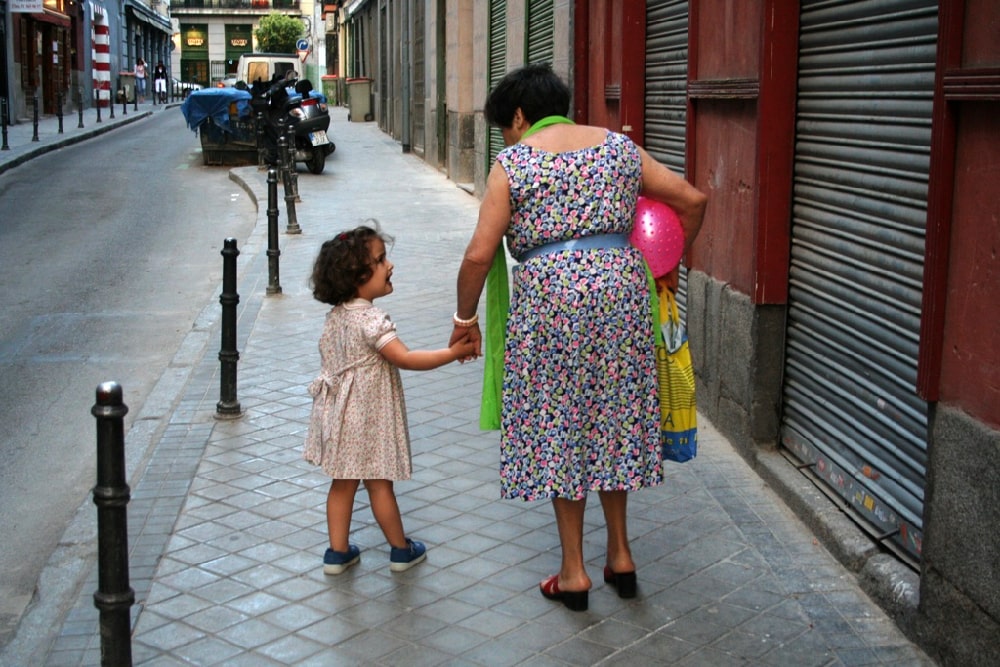 The backstreets of La Latina
Many people ask us about where to visit, eat, and drink while in Madrid. Taking for granted that you will already know about the Retiro Park (don't miss that!), the big three museums, the Plaza Mayor and Sol, our first answer would be to encourage you to just pick a couple of the really classic barrios (neighbourhoods) and take a wander.
For example, head for La Latina, or Chueca or Malasaña (both north of Gran Vía), or the Barrio de las Letras (the streets between the Prado museum and Plaza Santa Ana) – just get lost in any of those areas, taking in the street life – then just pick any bar or restaurant you like the look of! The more down to earth the better 🙂
If you want something more specific, here are a few of our favourite spots. …with the disclaimer that places change, close, etc – but no matter what you find when you get to them, just walking to any of these (and do walk, Madrid is made for walking) will take you to some lovely corners of the city:
Cervecería Santa Barbara – Near Alonso Martinez Metro, a real classic, said to pour the best beer in Madrid. Where Marina and Ben had their first intercambio in 1999! Take a walk down into Chueca or Malasaña afterwards.
Casa Macareno in Malasaña, lovely Menu del dia at lunchtime or food at night, but you'll have to book, otherwise just grab a caña at the bar.
Casa Julio in Malasaña – lovley little bar, best Croquetas ever… ever! Bono has been there 🙂 Great at lunchtime or in the evening. Lovely surrounding streets.
Café Barbieri  in Lavapies – another real classic, it was already very old and classic when Ben first went there in 1998!
Bodegas Alfaro in Lavapies – A lovely old bar up the street from Café Barbieri.
Frida in Chueca – on a lovely, quiet Plaza, good for an afternoon drink on the terrace, or a nice lunch.
Cafe Belen in Chueca, if you've read Ben's Errant in Iberia, this is where the photo exhibitions took place. Nice for an evening drink on the way to explore more of Chueca, or to wander from here towards Tribunal and then, say, the legendary Plaza Dos de Mayo.
Casa Mingo – The chicken place! Incredible roast chicken. A real classic. Touristy, and a bit out of the way, and you'll need to get there by the very un-Madrileño time of 1pm to eat lunch without a queue, but it's worth it. Have the cider with the chicken, and maybe some chorizo. You can wander along Madrid Rio or into the Casa de Campo afterwards (see 'Lago' below).
Taberna J. Blanco in La Latina – one of Ben's hidden favourites, perfect for a beer or glass of wine, lunchtime or evening, it's lost in time – many people don't get this far into La Latina, but this is a wonderful little corner of Madrid. Later wander from here to Plaza de la Paja.
What else? Go to the Sorolla museum, our favourite where art is concerned, check out the Plaza Oriente between Opera and the Grand Palace.
Again, go to the Retiro Park and lose yourselves in the tree-lined paths around the park's Palacio de Cristal – see what exhibition they have going on in there.
Head down to Lago and have a drink by the lake, any time during the day.
And a favourite market to finish, the Mercado de Vallehermoso – a nice old building with interesting new bars and places to have tapas, mixed in with the food stalls. Lively at lunchtimes, especially at the weekends.
This list is just a tiny sample of Madrid's wonders – we could name hundreds – but the real joy is for you to just walk and seek out special places for yourselves!
Forget reviews and ratings in Trip Advisor or Google Maps, turn off your phone, and just wander, follow your nose, and head anywhere you like the look of. Madrid is very safe, go in and have a drink, some tapas, or a meal, anywhere you like. Have fun! And learn lots of Spanish with our audios before you go!