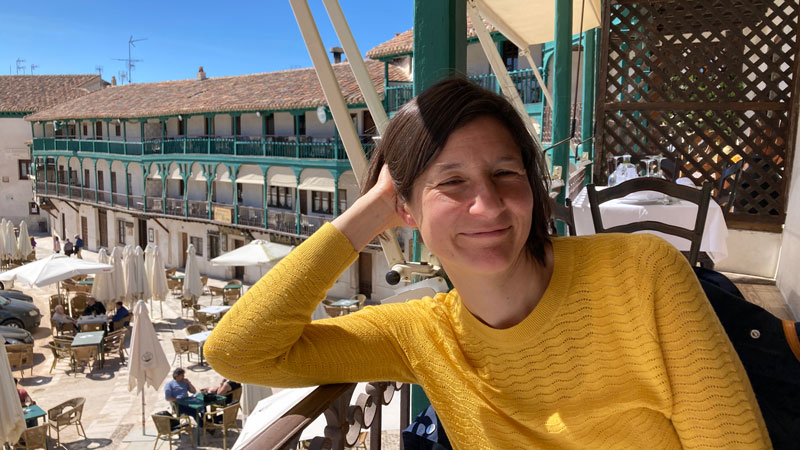 Hola amig@s,
Seguimos a tope en la sede de Notes in Spanish – Work is flourishing in Notes in Spanish HQ
Ayer fuimos a Chinchón, un pueblo al sur de Madrid, disfrutamos a tope y comimos al sol – Yesterday Marina and I were in Chinchón, a small town to the south of Madrid, having an amazing time with a meal in the sun (see photo above).
We were recording the first in a special Notes in Spanish travel collection of audios we will be putting together in the coming months – more details soon!
(Note the uses of 'a tope' above – seguir a tope – to still be working a lot, disfrutar a tope – to really enjoy something).
Hidden Notes in Spanish Gold
To get ready for our new audio travel collection (which will be at an Advanced level) we highly recommend our Gold audios – perfect for Inspired Intermediate and Advanced learners, some of the best work we've ever done, and often missed in the Notes in Spanish podcasting pantheon!
(What makes Gold special is the second-half English analysis that really helps get to grips with the Spanish conversation segment – Gold dust for inspired intermediates keen to get ahead, and Advanced listeners who love digging deeper in to the language.)
Here are some Gold-listener reviews:
"The two Gold seasons show Marina and Ben at their best, and they lifted my Spanish vocabulary to a totally different level." Gunnar W.
"I have used all the learning materials from Notes in Spanish and they're the best ever at helping me learn to speak and understand Spanish. My absolute favourite is the Gold series because of the analysis that follows each conversation. It's a wonderful way to review what you've just heard and clear up any questions you had as you were listening. I totally recommend all the Notes in Spanish audios and accompanying worksheets. They've made a huge difference in my Spanish! Thank you, Ben and Marina!!" – Jeri P.
"The two Gold series – both season 1 and season 2 – are my favourites in NIS and I recommend them enthusiastically. What makes them so wonderful is not only the additional "analysis" part at the end of each audio (which is surprisingly helpful), but also – or mainly – the wide variety of super interesting subject-matters discussed in the natural, lively, intimate, intelligent and funny style which is the trade mark of Marina and Ben." – Tamar
"In the 'Gold' series the after-pod discussion is really helpful too. The transcriptions add to what you learn by clearing up those parts that you can't quite make out from just listening. I really feel that I'm making progress. Many thanks Marina and Ben." Kevin K.
Listen to Gold here and pick up the super-helpful Gold Worksheets in our store,
Un abrazo,
Ben y Marina