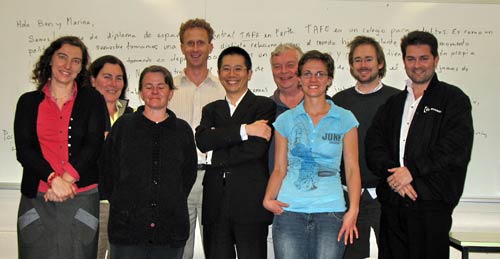 We really love hearing from everyone who is using the Notes in Spanish podcasts to help them learn Spanish, so we had an idea. Let's step into the classroom with you lot, find out who and where you are, and let all the other listeners know as well! So, huge kudos to Jim's class for being the first to step forward and introduce his class in Perth, Australia. I'll leave it to them to explain the rest, and really hope to hear from more of you soon!
"Hola Ben y Marina,
Somos la clase de diploma español del colegio para adultos Central TAFE en Perth. Cada semestre damos una asignatura distinta relacionada con el mundo hispano parlante. En este momento la asignatura que estamos dando es deporte y ocio.
Somos un grupo muy diverso, y cada uno tiene su razón propia para estudiar el idioma. Por ejemplo, para viajar, para disfrutar de pelí­culas en español sin subtí­tulos, para entender las canciones de Shakira, para entender a nuestros suegros (como Ben), y para parar la demencias.
Nuestra clases son los miércoles de 6 a 8 de la tarde, pero durante el dí­a trabajamos de ingenieros, abogados, contables, profesores, gerentes, y también tenemos un marinero jubilado (que es él que tiene que luchar contra la demencia).
Solemos empezar con conversando sobre lo que ha pasado durante la semana, temas de actualidad, y luego vemos algún reportaje del telediario, o escuchamos el podcast de Notes in Spanish, y algunas veces presentamos una tarea.
Esperamos que vuestras proyectos vayan bien, y muchas gracias por los podcasts.
Saludos,
La Clase de Español, TAFE – Perth, Western Australia."
Thanks guys!
If you would like to be the next featured class, please do contact us with a class photo and letter, we'd love to hear from you!