»»
Your Advanced Order Is Not Yet Complete
««
Customize Your Order Now
Before You Continue To The Checkout Please Read Every Word Of This

VERY Important Special Offer:
This Is Your Opportunity To Upgrade To Our Special
"ADVANCED PREMIUM PACK"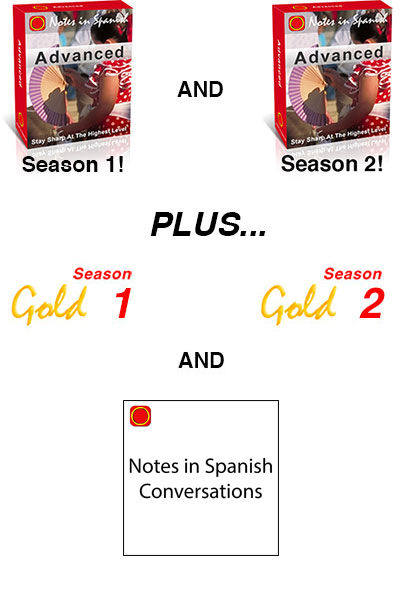 Many of our members ask us for bundle offers and specials. So we want to make this special package deal available to you: add the Advanced Season 2 Super pack (20 worksheets for the Advanced 2 series) and the Gold Season 1 and 2 packs (with 52 more great Gold audio worksheets!) and the 13 'NIS Conversations' Transcripts to your order at a very special price.
Get all the worksheets for Advanced Seasons 1 and 2, Gold Seasons 1 and 2 and NIS Conversations for €127 Euros Only
You'll get fixed access to all the Advanced Season 1 worksheets, plus by adding the complete Advanced 2 Super Pack and Gold Seasons 1 and 2 and NIS Conversations to your Advanced Season 1 order now, you'll also be getting the amazing 20 worksheets for the Advanced 2 episodes, 52 Gold Audio Worksheets, 13 NIS Conversations audio Transcripts - PLUS a total of 13 incredibly valuable Gold Only Q and A audios where we answer listener questions about Spanish language, vocab, grammar, learning tips and more!
We want to give you all of the Special Spanish Learning Materials for Advanced 1, Advanced 2 and Gold 1 and 2 and NIS Conversations for a ONE-Time-Payment of €127 Euros. (The normal price is currently over 200 euros when purchasing access to these products separately!)
Quite Simply ALL of the Best Advanced Material We've Ever Made!
Advanced 1 includes the invaluable worksheets we've always provided you with to really boost your Spanish. The Advanced 2 worksheets, for our 20 Advanced Series 2 audios, have an absolute wealth or real Spanish material in them. Gold 1 and 2 include 52 more worksheets for the Gold audios, covering vocab, grammar and phrases for even more super-interesting, specialised, real-world topics, and NIS Conversations Transcripts include our 'Real Essential Spanish' lists, full of the words and phrases we know you need to know at this level.
With all the materials included in this pack, you'll be expanding your Spanish learning horizons further than ever.
Extra Bonuses!
You'll also be getting the following extras:
Bonus 1

: The Bonus Mega Q and A Audio included in Gold 1 - it's the longest Q and A session yet! 48 minutes of our detailed answers to some of the most interesting, and frankly, fun questions we've ever received from listeners.
Bonus 2

: The 13 Extra Gold Q and A Audios we recorded during Gold Seasons 1 and 2! Hours of entertaining audio with more useful Spanish language and learning tips than you can imagine!
Don't forget our Unbeatable 60 Day Guarantee:
If you're not convinced you can learn anything from our materials, we'll refund your money, no questions asked. It's as simple as that. So…

Upgrade Now While You Can!
YES Ben and Marina, I realize that this special offer is an investment opportunity that's too good to miss! I want the "Advanced Premium Pack" Special Offer Pack with the Advanced 1 worksheets, the Advanced 2 worksheets, Gold Seasons 1 and 2 worksheets, AND NIS Conversations Transcripts.
Great! Just Click The Big Orange Button Below, complete the whole payment process, and you will receive download instructions in your Inbox within minutes. Click Here:
<!—Exact total in $USD and other currencies confirmed at final payment stage)—>(We charge in Euros, but you can check the amount in US Dollars, GB Pounds and other currencies at XE.com)
No thanks. Please just give me access to the Advanced Season 1 Super Pack. I realize I'm missing out on an incredible deal, but I'm willing to pass it up.