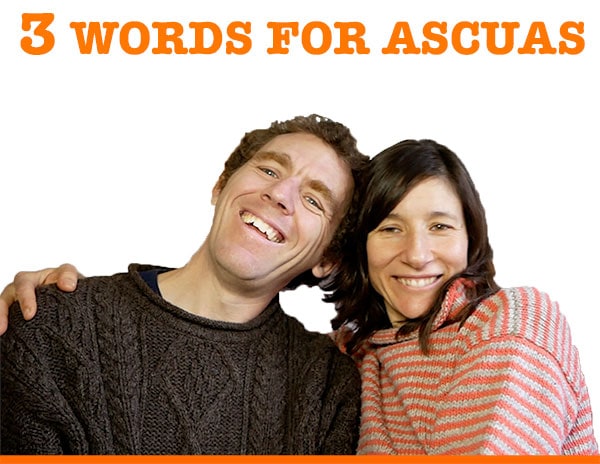 [Download as an MP3 by right-clicking here]
Welcome to episode 17 of 3 Words for Ascuas! This week Ben and Marina discuss art and creativity, from Marina's punto (y puñetas!), to orfebrería (gold and silver smithing) and great Spanish music jokes.
Subscribe to this podcast in: Apple Podcasts – Spotify – Stitcher – RSS Feed
Learn Spanish faster: Listen to our other podcasts for Beginners, Intermediate and Advanced.
Combine our podcasts with our worksheets to learn Spanish even faster, available In Store Now!
Subscribe to our newsletter so you never miss an episode and other Spanish goodies!
THIS WEEK'S SHOW NOTES!
Ben and Marina
Hacer punto – Knitting
Hacer puñetas -Trim, edging
Vete a hacer puñetas – Go away!
Puñetas – Darn it
Fieltro – Felt
Barita mágica – Magic wand
Piñata – Piñata
Barro – Clay, mud
Dibujar con los niños – Draw with the kids
Rotus – Felt-tipped pens
Vete con la música a otra parte – Take your complaints or your ranting elsewhere
Para gustos los colores – Each to their own (taste)
Bellas artes – Fine arts
Nota – Mark/grade in an exam
Randi
No poder ni ver en pintura – To not cope with something or someone
No puedo ver a ese chico ni en pintura – I can't cope with that guy
No puedo ver esa sopa ni en pintura – I can't even look at this soup. I don't want to eat it.
No pinta nada – To not fit in
Creo que no pinto nada en esta fiesta – I don't think I fit in at all in this party
Por arte de birlibirloque – Like magic, unexpectedly
He aprobado el examen por arte de birlibirloque – I passed the exam unexpectedly
Arthur
Meninas – Ladies in waiting
Pinacoteca – Art gallery
Vinoteca – Wine shop
Valerie
Mueseo de artes y costumbres populares – Arts and Crafts museum
Talleres artesanales – Types of art and craft
Alfarería – Pottery
Cestería – Basket weaving
Bordadura – Embroidery
Encaje – Lace
Encaje de bolillos – Lace-making
Estoy haciendo encaje de bolillos para organizar el horario de la escuela – I'm trying to put together the school timetable (and it's very complex)
Azulejería – Tile making
Orfebrería – Goldsmithing, silversmithing
Herrería – Blacksmithing
Tonelería – Barrel making
Curtiduría – Tanning
Metalistería – Metalwork
Piel – Leather
Herramienta – Tool
Angela
Coser – To sew
La costurera – Seamstress
El sastre – Tailor
El dedal – Thimble
La aguja – Needle
Tiene aguja – It is sparkling (wine)
El alfiler – Pin
El hormigueo – Pins and needles
Se me ha dormido la mano – My hand has gone numb
Coserse la boca – To keep your lips sealed
Me coso la boca – My lips are sealed
Bosquejar – To sketch
Boceto, bosquejo – A sketch
This week's jokes…
¿Sabías que Beethoven dedicó su quinta sinfonía a su padre?
¿Cómo lo sabes?
Fíjate en el comienzo: "Para papá…"
—
Did you know that Beethoven dedicated his 5th symphony to his father?
How do you know?
Pay attention to the beginning: "For dad" ("Para papá…")
---
– Doctor, doctor…..dígame la verdad, ¿después de la operación podré tocar la guitarra ?
– Si hombre, perfectamente.
– ¡¡¡Qué bien!!! porque antes no sabía.
—
– Doctor, doctor…..tell me the truth, will I be able to play guitar after the operation?
– Of course, perfectly.
– Great! Because I didn't know how to before.
---
Chris
Pomo, manivela, manillas, manija, picaporte – Door handle
Pico picapinos – Great spotted woodpecker
Sacar de quicio – To annoy
Este chico me saca de quicio – That guy drives me mad
No me saques de quicio – Stop driving me mad
Quicio – doorjam/frame
Es de mi quinta – He/she is from my age group
Traje marinero – Sailor suit
Tu no eres de nuestra quinta – You are much younger (in this case, it could be older too)
Las aportaciones han sido muy ocurrentes y bonitas – The things we've received have been really interesting and lovely.
Linked episodes and resources
Notes in Spanish Gold Season 2 – Ep.14 – Sorolla
Notes in Spanish Advanced Season 2 – Ep.9 – Musicofília
Inspired Beginners Spanish Podcast 26 – La Musica
Intermediate Spanish Podcast 26 – La Música
We hope you enjoyed episode 17!
What next? Listen to our main Spanish level podcasts here to learn even more real Spanish like this and get the worksheets in our store to make a HUGE difference to your Spanish.
¡Mil gracias! Ben y Marina