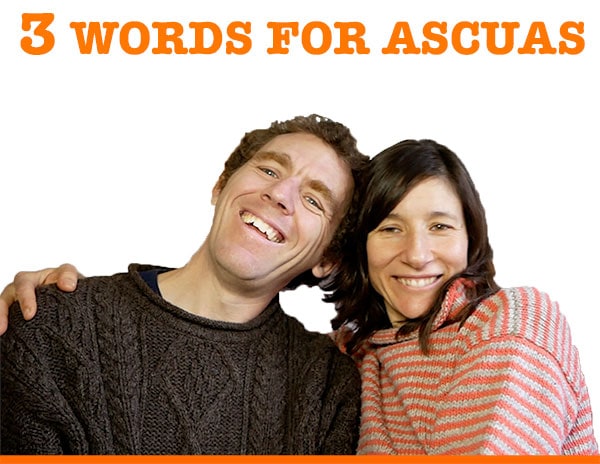 [Download as an MP3 by right-clicking here]
Welcome to episode 16 of 3 Words for Ascuas! This week Ben and Marina discuss sports and games, from Mus (Spain's favourite card game), to Tejo (gunpowder in Colombia!), Canotaje (canoeing) and much more.
Subscribe to this podcast in: Apple Podcasts – Spotify – Stitcher – RSS Feed
Listen to our other podcasts for Beginners, Intermediate and Advanced.
Subscribe to our newsletter so you never miss an episode and other Spanish goodies!
THIS WEEK'S SHOW NOTES!
Ben y Marina
Hemos cumplido – We've done what we need to (our daily exercise)
Julia
Escalada en roca – Rock climbing
Senderismo – Hiking, Trekking, walking
Eskí de travesiá – Cross-country skiing
Canotaje – Canoeing
Rocómodro – Climbing wall
Randi
Echar balones fuera – To blame someone else
Deja de echar balones fuera y asume tu parte en este lío – Stop blaming other people and take responsability in this mess.
Hacer la pelota – To suck up to someone
Deja de hacerme la pelota que seguro que me vas a pedir algo – Stop sucking up to me, I'm sure you are going to ask me for something
Estar en pelotas – To be naked
Dejar a alguien en pelotas – To embarrass someone, or catch someone out, reveal what someone has done, tell a secret
Me has dejado en pelotas – You've left me embarrassed, in a difficult position
Por pelotas / Sí o sí – For sure, definitely
Lo hago por pelotas – I'm doing it and that's that
Casarse de penalti – Shotgun wedding
Angela
El jardinero – Outfielder
Escondite – Hide and seek
Jugar al escondite – Play hide and seek
El escondite ingles – Known in English as "What's the time, Mr. Wolf?" or "Granny's footsteps"
Naipes – Playing cards
Baraja – Deck of cards
Baraja española – Spanish playing cards
Oros, copas, espadas y bastos – Gold, cups, swords and clubs
Baraja francesa – Standard (e.g. in the US, UK) playing cards
Corazones, picas, diamantes y tréboles – Hearts, spades, diamonds and clubs
Mus – Mus, a card game
Dominó – Dominoes
Mary Catherine
Baloncesto – Basketball
Canasta – Canasta (card game) or when someone makes a basket in basketball
Cancha – Basketball court
Tejo – Columbian sport like horseshoes – see video:
Linda Fineman
Predilecto – Favorite
Brindar la oportunidad – Gives me the opportunity
Brindar – Toast
Rayuela – Hopscotch
Book recommendation: Final del juego – Julio Cortázar
Seguro que se iba a armar la meresunda – There would definitely be a big fuss
Se iba a armar la marimorena – There is a big fuss or a big party
Se va a armar una buena – There is going to be a big fuss
Que se va a armar un gran lío – There is going to be a big fuss
Un lio grande – A big mess
Un tilingo – A fool, a gullible person
Jose pagó el pato – Jose got the blame
Linda – Beautiful, nice
Arthur
Los hinchas – Football fans
Campeonato Nacional de Liga de Primera División (commonly known as La Liga) – First/premier division football in Spain
This Week's Jokes
Un domingo, después de misa, uno de los feligreses se acerca al párroco y le pregunta:
– Reverendo, ¿es pecado jugar al golf en domingo?
– Hijo mío, dijo el padre poniendo la mano sobre su hombro, te he visto jugar al golf, en tu caso es un pecado cualquier día.
—
One Sunday, after Mass, one of the worshipers goes up to the priest and asks him:
– Reverend, is it a sin to play golf on Sundays?
– My son, replied the priest putting a hand on his shoulder, I've seen you play golf, and in your case, it's a sin any day of the week.
—
– Soy una persona muy saludable.
– ¿Haces mucho deporte y comes sano?
– No. Es que la gente me saluda por la calle y yo… pues les devuelvo el saludo.
—
– I'm a very healthy person.

– Do you do a lot of sport and eat well?
– No. People say hi to me a lot in the street and I … well, I say hi back.
(It's a play on words – saludable – healthy, saludar – to greet someone)
—
¿Qué club de fútbol siguen las ovejas? Baaaaaaaaa-rcelona.
—
What football club do sheep follow? Baaaaaaaaa-rcelona.
—
Marina
Tirarse a la piscina – To dive in at the deep end
Ben
Trepar rocas – To scramble over rocks
Caminar en la montaña – To walk in the mountains
La bici – The bike / Cycling
Linked episodes and resources
Notes in Spanish Conversations 9 – Locos Por El Deporte
We hope you enjoyed episode 16!
Remember! Listen to our main Spanish level podcasts here to learn even more real Spanish like this and get the worksheets in our store to make a HUGE difference to your Spanish.
Rate and review! If you listen to us on Apple Podcasts please do subscribe and leave us a rating and a review. ¡Gracias!
And do get in touch if you'd like to tell us a favourite word, phrase or personal Spanish anecdote, especially if it's related to creativity, art and the arts for next week's show. You can contact us here.
¡Mil gracias!