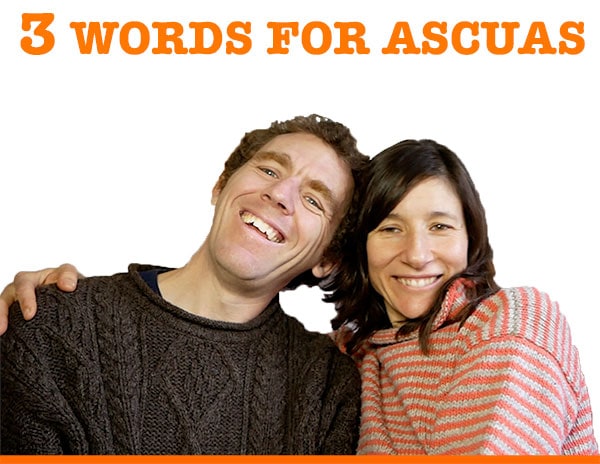 [Download as an MP3 by right-clicking here]
Welcome to episode 15 of 3 Words for Ascuas! This week Ben and Marina discuss all things maritime – sea creatures (pulpos y esponjas), beach bars (chiringuitos), great sea-related songs, and much more.
Subscribe to this podcast in: Apple Podcasts – Spotify – Stitcher – RSS Feed
Listen to our other podcasts for Beginners, Intermediate and Advanced.
Subscribe to our newsletter so you never miss an episode and other Spanish goodies!
THIS WEEK'S SHOW NOTES!
Randi
Estar más perdido que un pulpo en un garaje – Like a fish out of water
Ser un pulpo – The guy who can't keep his hands to himself at the disco
Ese tío es un pulpo – That guy can't keep his hands to himself
Ser más difícil que ponerle el pantalón a un pulpo – Something is really hard
La mar de contento – Very happy
Mi hijo está la mar de contento con el juguete que le has regalado – My son is really happy with the toy you have given him
Llorar a mares – To cry your eyes out
Está hecho un mar de lágrimas – To be crying a lot
Estar hecho un mar de dudas – To be full of doubt about something
Linda
Alfonsina y el mar, sung by Mercedes Sosa:
You can read more about the song in Wikipedia and read the Lyrics here.
See also Mercedes Sosa's rendition of Gracias a la vida:
Fito y Fitipaldis – Soldadito marinero:
Angela
El cangrejo – Crab
La tortuga marina – Sea turtle
La medusa – Jellyfish
La esponja de mar – Sponge
La orilla – Seashore
La ola – Wave
Hacer la ola – To do a Mexican wave (e.g. around a stadium)
Echar agua al mar – Something is pointless
Decirle a mi padre que duerma más es como echar agua al mar – Telling my dad to sleep more is completely pointless
Camarón que se duerme se lo lleva la corriente – You snooze, you lose (literally, the sleeping shrimp is carried away by the current)
Ben
Erizo de mar – Sea urchin
Resaca – Undertow or hangover
Valerie
Un/a Porteño/a – Someone from Buenas Aires
Un/a portero/a – Doorman/doorwoman
Gentilicio – The origin of someone, e.g. Madrileño for people from Madrid
La listilla – Clever-clogs
El que tiene boca se equivoca – Whoever has a mouth, makes mistakes
Arthur
Boquerones Victorianos – Fried little anchovies from Malaga
Boquerones – People from Malaga
Boquerones Fritos – Fried anchovies
Enharinados – Covered in flour
Rebozados – Battered
Anchoas – Anchovies (like the ones you put on a pizza)
Boquerones en vinagre – The white pickled anchovies you have in a bar with crisps
Chiringuitos – Beach bars
El Tintero – The wonderful restaurant we mention in Malaga
El Entierro Del Boquerón – The burial of the Boqueron
Hacer Barquitos- Dipping bread in sauces or olive oil
Viktoria
Nadar y guardar la ropa – To proceed with caution in a matter, to get the most out of it with the least risk (literally to put your clothes away before you swim)
Ir a contracorriente – To go against the current (against popular opinion or behaviour)
Contra viento y marea – When you get over a difficult situation despite all the difficulties (literally, against wind and tide)
Tim
Hay moros en la costa – Watch out! Danger!
Un moroso – someone who doesn't pay a debt
(Outdated expressions now considered racist)
Elizabeth
¡Chicos, respirad el yodo! – Guys, breath in the iodine
Sirimiri (Txirimiri is the Basque version)- Drizzle
This Week's Joke
– Papá, ¿cuántas anclas tiene un barco?
– Once
– ¿Estás seguro?
– Claro, nunca has oído eso de: "Eleven anclas"?
– Ah si, es verdad. Gracias Papi!
---
– Dad, who many anchors does a boat have?
– Eleven
– Are you sure?
– Of course, haven't you ever heard "Eleven anclas" – "Lift the anchors"?
– Ah, it's true. Thanks dad.
Marina
Echar pelillos al mar – Let sleeping dogs lie
Ben
No me marees – Stop driving me mad
Me cachis en la mar – Darn it
Girls names: Marina, Mar (sea), Concha (shell)
A boy's name: Delfín – Dolphin
We hope you enjoyed episode 15!
Remember! Listen to our main Spanish level podcasts here to learn even more real Spanish like this and get the worksheets in our store to make a HUGE difference to your Spanish.
Rate and review! If you listen to us on Apple Podcasts please do subscribe and leave us a rating and a review. ¡Gracias!
And do get in touch if you'd like to tell us a favourite word, phrase or personal Spanish anecdote, especially if it's related to sports and games for next week's show. You can contact us here.
¡Mil gracias!