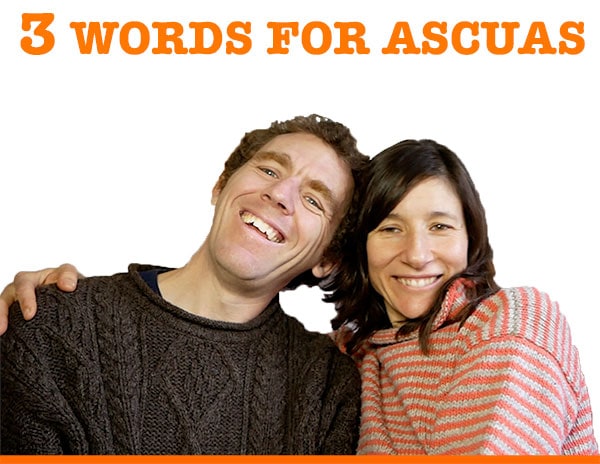 [Download as an MP3 by right-clicking here]
Welcome to episode 14 of 3 Words for Ascuas! This week Ben and Marina discuss love and friendship. From media naranjas (soul mates) to príncipes azules (Prince Charmings) wonderful listener stories of love and deep friendship, and much more.
Subscribe to this podcast in: Apple Podcasts – Spotify – Stitcher – RSS Feed
Listen to our other podcasts for Beginners, Intermediate and Advanced.
Subscribe to our newsletter so you never miss an episode and other Spanish goodies!
THIS WEEK'S SHOW NOTES!
Halle, Gwyneth, Angela, Amie, Bridget and Emily
Eres mi media naranja – You are my soul mate, my true love
Estoy buscando a mi media naranja – I'm looking for my soul mate
Arthur
Los amigos de mis amigos son mis amigos – The friends of my friends are my friends
El amigo lo escojo yo, el pariente no – You can choose your friends, but not your family
Kimberly
Un vínculo especial – A special connection
Valerie
Caminar con un amigo en la oscuridad es mejor que caminar solo en la luz – Walking with a friend in the dark is better than walking alone in the light
No hay mejor hermano que un buen vecino al lado – There is no better brother or sister than a good neighbour by your side
Kim
El mundo es un pañuelo, y eres mi moco favorito – It's a small world and you are my favourite snot
El mundo es un pañuelo y tu eres el moco que más quiero – It's a small world and you are my favourite snot
Angela
Estar a partir un piñón – To be very close (literally, close enough to split a pine nut)
Ana y Julia están a partir un piñon – Ana and Julia are really close
Hacer buenas migas – To hit it off (literally, to make good breadcrumbs)
Ana y Julia hacen muy buenas migas – Ana and Julia get on really well
Han hecho muy buenas migas – They get on really well
Janie and Stephanie
Ella es mi compañera del alma – She's my soul mate
Kellie
Me caes bien – I get on with you, I like hanging out with you
Me gustas – I like you
Me encantas – I really like you / I love you
Me fascinas – You fascinate me
Te quiero – I love you
Te amo – I love you
Me vuelves loco/a – You drive me crazy
Bridget
Es mi alma gemela – She is my soulmate
Angela again
Beber los aires por alguien – To be madly in love with someone (literally, to drink the breezes for somebody)
El príncipe azul – Prince charming (literally, the blue prince)
El amor entra por la cocina – The way to a man/woman's heart is through his stomach (literally, love enters through the kitchen)
Brian
Llevarse una bronca – To get a good telling off
Echarle una bronca – To tell someone off
Tener una bronca – To have a big argument
Juan y Ana han tenido una bronca monumental – Juan and Ana have had a huge argument
Shane
Armorcíto, Cielo (Sky) , Cari, Cariño, Bombón (Chocolate) – Love, sweetie, honey
Zak
Estar enamorado hasta los tuétanos – To be head over heels in love
Tuétano – Bone marrow (so to the bone, to the core)
Estar por los huesos – To be head over heels in love
Estoy hasta los huevos – I'm fed up (slang)
Linda
El amor por la literatura se transmite por contagio (del escritor mexicano, Gabriel Zaid) – The love of literature is contagious
Creo que parte de mi amor a la vida se lo debo a mi amor a los libros (del escritor argentino, Adolfo Bioy Casares) – I think that part of my love of life I owe to my love of books
Las penas con pan son menos – Literally: Sorrows lessen with bread. Translation: Problem shared, problem halved
Del amor al odio hay un paso – It's a single step from love to hate
El amor tiene razones que la razón no entiende – Love has reasoning that reason does not understand
Amie and Caroline
Poetry recommendations:
Dime – Jorge Luis Borges
20 Poemas de Amor y una Canción Desesperada – Pablo Neruda
More from Amie
The Cortometraje (short film) from Argentina: "En las Nubes/In the Clouds"
Richard
Contigo pan y cebollas – I'd be happy with you if we only had bread and onions
Marianne
Tortolitos – Lovebirds
Noviazgo – Courtship
Están como tortolitos – They are like lovebirds
Tórtola – It's a bird. Turtledove.
Julia
Amor con amor se paga – One good turn deserves another
Por amor al arte – Just for the love of it
Ayuda a los mayores por amor al arte – She helps the elderly just for the love of it
Lauren
¿Te quieres casar conmigo? – Will you marry me?
Paul
¿Está usted casado? – Are you married?
¿Está usted cansado? – Are you tired?
This week's jokes
– ¿A dónde me llevarás por nuestro 20 aniversario?
– A Paris.
– ¿Y a los 30?
– Iré a buscarte
---
– Where are you taking me for our 20th Anniversary?
– To Paris
– And for the 30th?
– I'll come and get you
---
– Cariño ¿Quieres que pasemos los dos un fin de semana perfecto?
– ¡Vale!
– Pues nos vemos el lunes…
---
– Dear, do you want to have the perfect weekend?
– OK!
– Well, see you on Monday…
Marina and Ben
Read the story of our romantic get together in Madrid in Ben's book Errant in Iberia
Linked episodes and resources
Notes in Spanish Gold Season 1 – Ep.12 – Amor y La Galaxia
Intermediate Spanish Podcast 20 – Amor
Advanced Spanish Podcast 65 – San Valentin
We hope you enjoyed episode 14!
Remember! Listen to our main Spanish level podcasts here to learn even more real Spanish like this and get the worksheets in our store to make a HUGE difference to your Spanish.
Rate and review! If you listen to us on Apple Podcasts please do subscribe and leave us a rating and a review. ¡Gracias!
And do get in touch if you'd like to tell us a favourite word, phrase or personal Spanish anecdote, especially if it's related to the sea, the seashore, the beach, marine life and boats for next week's show. You can contact us here.
¡Mil gracias!