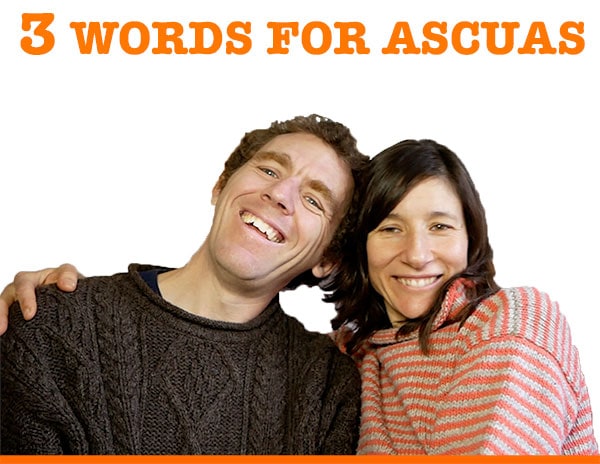 [Download as an MP3 by right-clicking here]
Welcome to episode 13 of 3 Words for Ascuas! This week Ben and Marina discuss Las Navidades, Christmas, and the Holiday Season. From espumillón (tinsel) to borrachuelos (drunk pastries) and Spanish carols (which we sing!), and much more, with wonderful listener contributions as always.
Subscribe to this podcast in: Apple Podcasts – Spotify – Stitcher – RSS Feed
Listen to our other podcasts for Beginners, Intermediate and Advanced.
Subscribe to our newsletter so you never miss an episode and other Spanish goodies!
THIS WEEK'S SHOW NOTES!
Randi
Villancicos – Christmas Carols
Polvorón – Thick Christmas almond shortbread cookie
Espachurrar – To crush
Aguinaldo – Treats, tip or Christmas Bonus
Pedir el aguinaldo – To ask for a treat
Año Nuevo, Vida Nueva – New Year, New Life
Hojas blancas – White leaves or white paper
Hoja en blanco – A new leaf (of paper, or turning over a new leaf)
Arthur
Nochebuena – Christmas Eve
Navidad – Christmas Day
Nochevieja – New Year's Eve
Año Nuevo – New Year's Day
Cabalgata De los Reyes Magos – The Three Kings Parade
Día De Reyes – Three Kings Day
Roscón de Reyes – Doughnut-shaped cake eaten around the Three King's Day

Campana Sobre Campana
Ben and Marina sing this verse:
Campana sobre campana,
Y sobre campana una,
Asómate a la ventana,
Verás el Niño en la cuna.
Belén, campanas de Belén,
Que los ángeles tocan
Qué nueva me traéis?
Las Comidas de Navidad en Málaga
Jamón de Bellota – Acorn-fed Iberian ham
Langostinos – Langoustines
Calamares Rellenos – Stuffed calamar
Sopa de Picadillo – Soup with chicken, ham, hard boiled egg and noodles. Some mint on top
Borrachuelos – Dough balls dipped in wine or anis with a stuffing of jam, Cabello de Ángel (pumpkin) or sweet potato.
Chandra
Papá Noel en diferentes países – Father Christmas in different countries

Papá Noel: Argentina, Colombia, Ecuador, Paraguay, Bolivia, Perú, Uruguay y Brasil
Papá Noe: La República Dominicana
Colacho: Costa Rica
San Nicolás: Venezuela
Sanata Clos: Puerto Rico
El Viejito Pascuero: Chile
Rob from Oregon
Feliz Navidad de José Feliciano
Luminarias – Little votive candles placed in small paper bags along streets and paths
Angela
El espumillón – Tinsel
El turrón – Nougat
La Misa del Gallo – Midnight Mass
El canto del gallo – Cock's Crow
Los ángeles – The angels
El cascabel – Sleigh bell
Julia
El belén – Christmas crib
José – Joseph
María – Mary
El bebé Jesús – Baby Jesus
Una muñeca – A doll
Los pastores – The shepherds
Unas ovejas – Some ewes
Un cordero – A lamb
Un burro – A donkey
Los reyes magos – The Three Kings
Sus regalos – Their presents
Un ángel suspendido a la rama de un árbol – An angel hanging from the branches of a tree
Mary
El caganer – Figurine in Catalan nativity/crib scenes having a poo
Cagar – To do a poo (vulgar)
This week's Joke
¿Qué tipo de coche lleva Santa Claus?
¡Un Renault!
What kind of car does Santa Claus drive?
A Renault (Because 'Reno', Spanish for reindeer, sounds like the 'Renault' car brand when pronounced in Spanish)
Los Peces En El Rio
Ben and Marina sing this verse:
La Virgen se está peinando
Entre cortina y cortina
Los cabellos son de oro
Y el peine de plata fina.
Pero mira cómo beben los peces en el río
Pero mira cómo beben por ver al Dios nacido
Beben y Beben y vuelven a Beber
Los peces en el río por ver a Dios nacer.
Pandereta – Tambourine
Zambomba – Popular Christmas instrument (a type of hand drum)
Linked episodes and resources
Podcasts:
Advanced Spanish Podcast 86 – Feliz Navidad
Advanced Spanish Podcast 58 – Navidades en Familia
Intermediate Spanish Podcast 12 – Navidad
Intermediate Spanish Podcast 9 – Loterí­a
Inspired Beginners Spanish Podcast 16 – ¡Feliz Navidad!
Video:
Seasonal Christmas Holiday Greetings in Spanish
We hope you enjoyed episode 13!
Remember! Listen to our main Spanish level podcasts here to learn even more real Spanish like this and get the worksheets in our store to make a HUGE difference to your Spanish.
Rate and review! If you listen to us on Apple Podcasts please do subscribe and leave us a rating and a review. ¡Gracias!
Subscribe to our newsletter so you know when we return with the next episode and how you can help out!
¡Mil gracias!