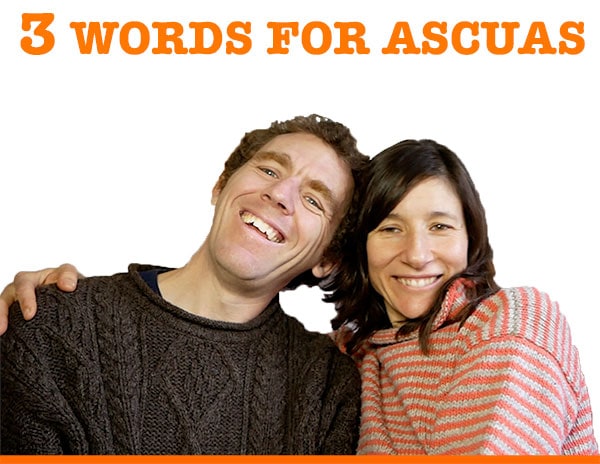 [Download as an MP3 by right-clicking here]
Welcome to episode 12 of 3 Words for Ascuas! This week Ben and Marina discuss Spanish words and phrases connected to nature, including herbs, flowers and trees, and wonderful expressions such as 'Ser la alegría de la huerta' and 'Con tontos, ni a coger hongos'.
Subscribe to this podcast in: Apple Podcasts – Spotify – Stitcher – RSS Feed
Listen to our other podcasts for Beginners, Intermediate and Advanced.
Subscribe to our newsletter so you never miss an episode and other Spanish goodies!
THIS WEEK'S SHOW NOTES!
Rhodri
Ser la alegría de la huerta – The life and soul of the party, a lively and happy person
Llevar a alguien al huerto – To have sexual relations with somebody
La primavera la sangre altera – Spring alters your blood! It spices things up!
Estar metido en el ajo / Estar en el ajo – To be involved in something, usually secret or naughty
Ha habido un escándalo en el trabajo y parece que Juan está metido en el ajo –
There's been a scandal at work and it seems that Juan is in the thick of it
Valerie
Madreselva – Honeysuckle
Altramuces – White Lupin
Pensamientos – Pansies
Nomeolvides – Forget-me-nots
Dedaleras – Foxgloves
Dedal – Thimbel
Alhelíes – Wallflower
Capuchinas – Nasturtium
Mejorana – Marjoram
Albahaca – Basil
Perejil – Parsley
Hierbabuena – Mint
Tomillo – Thyme
Romero – Rosemary
Jana
La dehesa – Pasture land, a unique ecosystem in South-Western Spain consisting of mediterranean forest modified by man for grazing animals
Cajón – Canyon (in Chile) / draw
Angela
Amarillear – To turn yellow
Cosechar – To harvest
Corcho – Cork
La escarcha – Frost
Escarchado – Frosty
Frutas escarchadas – Candied fruit
El follaje – Canopy
La castaña – Chestnut
El espantapájaros – Scarecrow
Ser castaña – To be brown-haired
Marina es castaña – Marina is brown-haired
Ser una castaña – To be crappy
Ese coche es una castaña – That is the crappiest car.
Arthur
Flor de Nochebuena / Flor de Pascua – Poinsettia
Buganvilla- Bougainvillea
Girasol – Sunflower
Dama de Noche / Jazmín – Night blooming jasmine. Each evening the scent is strong and sweet.
Estar en el quinto pino – To be far away
Kathy
Un herrerillo – blue tit
Ahlsund, Finland
Con tontos, ni a coger hongos – You shouldn't listen to bad advice, or you should watch the company you keep (literally, with stupid people, don't pick mushrooms!)

Año de hongos, año de nieves – If there are a lot of mushrooms in the fall there will be lots of snow in the winter

Año de nieves, año de bienes – If it snows a lot there will be lots of goods (crops will do well)

En diciembre, heladas, y migas almorzadas – In December, icy mornings and breadcrumbs stew for lunch
Clarence, White Plains NY
Abedul – Birch tree
Acebo – Holly
Álamo – Poplar or cottonwood
Fresno – Ash
El árbol más altanero, débil tallo fue primero – Great oaks from little acorns grow
Marina recommends the book "Jaime y las bellotas" – published by Kalandraka
Ben and Marina on trees
Encina – Holm oak
Roble – Oak
Aritz – Roble in Basque
Linda, North Carolina
¡Trágame tierra! / ¡Tierra trágame! – I want to die! / Just kill me now!

Parece como si se le hubiera tragado la tierra – He disappeared off the face of the earth / He vanished into thin air
Eduado
Chozo – Wooden or stone hut
Transhumancia – Transhumance
El arroyo – Stream
Riachuelo – Creek
Wisdom from San Bernardo De Claraval:
"Encontrarás mucho más en los bosques que en los libros; los árboles y las piedras te enseñarán lo que nunca aprenderías de un maestro." – You'll find a lot more in forests than in books; trees and stones will teach you what you'll never learn from a teacher.
Joke, also from Eduardo
Un gato caminaba por un tejado maullando:
¡Miau, miau!
En eso se acerca otro gato repitiendo:
¡Guau, guau!
Entonteces el primer gato le dice:
Oye, ¿por qué ladras si tú eres gato?
Y el otro le contesta:
¿Es que uno no puede aprender idiomas?
A cat was walking along a roof meowing:
Meow, meow!
Another cat came along repeating:
Woof Woof!
So the first cat said:
Hey, why are you barking if you are a cat?
And the other cat replied:
What, can't one learn languages?
Marina
Encapotado – Overcast, cloudy

Marina's tounge-twister
El cielo está encapotado, ¿quién lo desencapotará? El desencapotador que lo desencapote buen desencapotador será.
Which very roughly translates as… The sky is cloudy, who will uncloud it?, the unclouder that unclouds it will really be a good unclouder!
Ben's words
Musgo – Moss
Fiemo – Manure
Ortigas – Nettle
Fiemar (local verb used in the Pyrenees) – Fertilise with manure
Bufete de abogados – Law firm
We hope you enjoyed episode 12!
Remember! Listen to our main Spanish level podcasts here to learn even more real Spanish like this and get the worksheets in our store to make a HUGE difference to your Spanish.
Rate and review! If you listen to us on Apple Podcasts please do subscribe and leave us a rating and a review. ¡Gracias!
And do get in touch if you'd like to tell us a favourite word, phrase or personal Spanish anecdote, especially if it's related to Christmas and the Holiday Season for next week's show. You can contact us here.
¡Mil gracias!