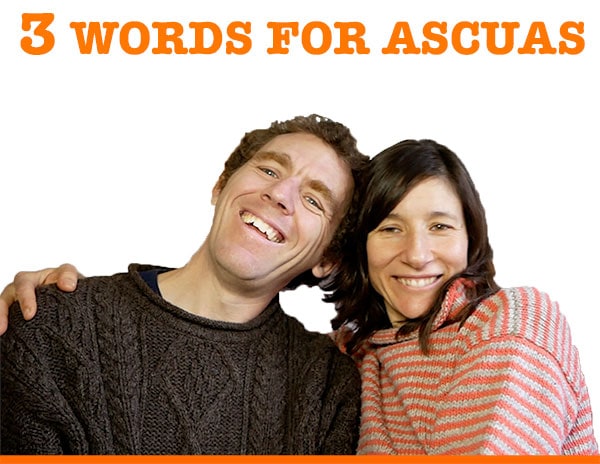 [Download as an MP3 by right-clicking here]
Welcome to episode 11 of 3 Words for Ascuas! This week Ben and Marina (and our listeners!) look at fantastic Spanish from the animal kingdom – comadrejas, lagartijas, the wonderful world of Ratoncito Pérez – Spain's mousey tooth fairy – and much more.
¡Por cierto! By the way! Remember the Black Friday Sale on Now in our Store: 25% Off Everything with code BF2020
Subscribe to this podcast in: Apple Podcasts – Spotify – Stitcher – RSS Feed
Listen to our other podcasts for Beginners, Intermediate and Advanced.
Subscribe to our newsletter so you never miss an episode and other Spanish goodies!
THIS WEEK'S SHOW NOTES!
Animal sounds in Spanish
El perro – Guau Guau
La oveja – Beeee
El gallo – Kirikikí
El caballo – Hiii
El pájaro – Pío pío
La paloma – Cu-curru-cu-cú
…like the song by Caetano Veloso, Cucurrucucu Paloma from Pedro Almodovar's film Hable Con Ella
From ST in China
Serpentear – To meander or wind along
Linda
Aquí hay gato encerrado – Something funny is going on here, something smells fishy
Dar a alguien gato por liebre – To cheat someone
Buscarle tres pies al gato – To make life complicated
No le busques tres pies al gato – Stop overcomplicating things
Arthur
El Ratoncito Pérez – The Spanish Tooth Fairy
Como una cabra – Crazy
Sudar como un pollo – I'm sweating like a pig
Tener la piel de gallina / Se me pone la piel de gallina – To have goosebumps / It's giving me goosebumps
Ser muy mono – To be cute/pretty/a nice person
Hacer el mono – To mess around
Deja ya de hacer el mono – Stop monkeying around
Pavo Real – Peacock
No te pavonees – Stop showing off
La edad del pavo – Adolescence
Tiene un pavo / Menudo pavo que tiene – What a nightmare teenager he is right now
Joke of the week (from Arthur)
¿Cuál es el animal que más dientes tiene?
El Ratoncito Pérez…..
Which animal has the most teeth?
El Ratoncito Pérez…..
Brian
Estoy más feliz que una perdiz – I'm happy as a lark
Estoy más feliz que un regaliz – I'm happy as a lark
Regaliz – Liquorice
Rhiannon
Eres más pesado que una vaca en brazos – You are a complete pain
Eres más pesado que un collar de melones – You are a complete pain
Ser un lince – To be quick, sharp, bright
Alondra – Lark
Escarabajo – Beetle
Escarabajo descapotable – Convertible Beetle (car)
Golondrina – Swallow
Urraca – Magpie
Babosa – Slug
Baba – Dribble
Caracola – Seashell (Face-tail! How lovely!)
Hola caracola – Hi there (usually between kids)
Búho – Owl
Cigüeña – Stork
Valerie
Estar al loro – To be alert, on the look out for something
Estate al loro – Be alert
¡Al loro! – Wake up, pay attention!
Hablar como un loro – To talk non-stop
Angela
El saltamontes – Grasshopper
El petirrojo – Robin
La tortuga – Tortoise
La comadreja – Weasel
No es tan fiero el león como lo pintan – His bark is worse than his bite
No apearse del burro – To refuse to back down, not get off your high horse
Bájate del burro – Get off your high horse
Cuando las ranas críen pelo – Pigs might fly
A otra cosa, mariposa – The topic is closed, moving on to something else
Rhodri

Son lobos de una camada – They are birds of a feather
Hamish

Lagartija – Lizard
Enjambre (de abejas) – Swarm (of bees)
Ser una hormiguita – To be beavering away, making a lot with a little
Gema es una hormiguita, siempre tiene una labor en la mano – Gema is always beavering away with her needlework
Marina
Tejón – Badger
Cervatillo – Fawn
Halcón – Hawk
Ben

Milano – Kite
Quebrantahuesos – Bearded vulture (literally, bone smasher)
Quebrantar (also, quebrar) – To break
Tritón – Newt
We hope you enjoyed episode 11!
Remember! Listen to our main Spanish level podcasts here to learn even more real Spanish like this and get the worksheets in our store to make a HUGE difference to your Spanish.
Rate and review! If you listen to us on Apple Podcasts please do subscribe and leave us a rating and a review. ¡Gracias!
And do get in touch if you'd like to tell us a favourite word, phrase or personal Spanish anecdote, especially if it's related to nature for next week's show. You can contact us here.
¡Mil gracias!