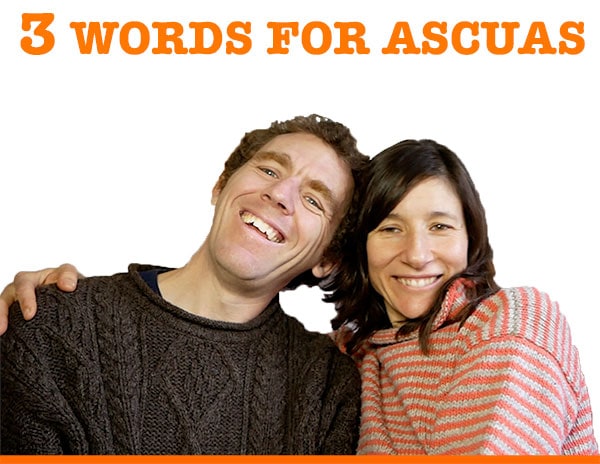 [Download as an MP3 by right-clicking here]
Welcome to episode 10 of 3 Words for Ascuas! This week Ben and Marina discuss wonderful Spanish words and phrases linked to clothes and dress sense, from the origin of katiuskas, to tangas and manoplas.
Subscribe to this podcast in: Apple Podcasts – Spotify – Stitcher – RSS Feed
Listen to our other podcasts for Beginners, Intermediate and Advanced.
Subscribe to our newsletter so you never miss an episode and other Spanish goodies!
THIS WEEK'S SHOW NOTES!
Jana
Estrafalario – Outlandish
Holgado – Baggy, loose-fitting
Julia
Katiuskas – Wellington boots
Michael
Aunque la mona se vista de seda, mona se queda – Mutton dressed as lamb
Seda – Silk
Terciopelo – Velvet
El habito no hace al monje – The habit does not make the monk
Zapatero, a tus zapatos – Mind your own business
Angela

Liarse la manta a la cabeza – To take the plunge
A buenas horas mangas verdes – What kind of time do you call this, you're late
Hamish
Chándal – Track suit
Bata – Dressing gown, robe, doctors coat
Váter – Toilet
Tanga – G-string
Faja – Corset
Rob
Jipijapa – Panama Hat (the word is from Ecuador, also means the palm tree used to make these hats)
Viktoria
Sacabotas – Bootjack
A quemarropa – At point blank range
Randi
Como a un Cristo dos pistolas – It looks terrible
Ese traje te queda como a un Cristo dos pistolas – That jacket looks awful on you
No pega ni con cola – That doesn't match at all
Vas hecho un adefesio – You're a real mess
Valerie
Meterse en camisa de once varas – To be out of your depth
Varas – Yards
Arthur
Quedar como un guante – To fit like a glove
Llevar los pantalones – To wear the pants
¿Quién lleva los pantalones en tu casa? – Who's in charge in your house?
Ir de punta en blanco – Well dressed
Siempre va de punta en blanco – He's always very well dressed
Estar en cueros – To be naked (also Estar en bolas, en pelotas)
Rhodri

Manoplas – Mittens
Ser un calzonazos – To be a henpecked husband
Rascarse el bolsillo – To pay
A ver si tu padre se rasca el bolsillo y nos invita a algo hijo – Son, let's see if your dad gets his money out and pays for something
Invitar – To pay for (e.g. a meal, drink)
Canela fina – A delight
Chris
No, gracias, estoy mirando – No thanks, I'm just looking
No gracias, solo estoy echando un vistazo – No thanks, I'm just taking a look
Gayumbos – Underpants (slang)
Ligero de ropa – Scantily clad
Aquí la gente va muy ligera de ropa – People are very scantily clad here
See also: Our Destape advanced podcast
Joke
¿Qué le dice un gusano a otro gusano?
Me voy a dar una vuelta a la manzana
What does one worm say to the other?
I'm going to go around the apple/go around the block
We hope you enjoyed episode 10!
Remember! Listen to our main Spanish level podcasts here to learn even more real Spanish like this and get the worksheets in our store to make a HUGE difference to your Spanish.
Rate and review! If you listen to us on Apple Podcasts please do subscribe and leave us a rating and a review. ¡Gracias!
And do get in touch if you'd like to tell us a favourite word, phrase or personal Spanish anecdote, especially if it's related to animals for next week's show. You can contact us here.
¡Mil gracias!