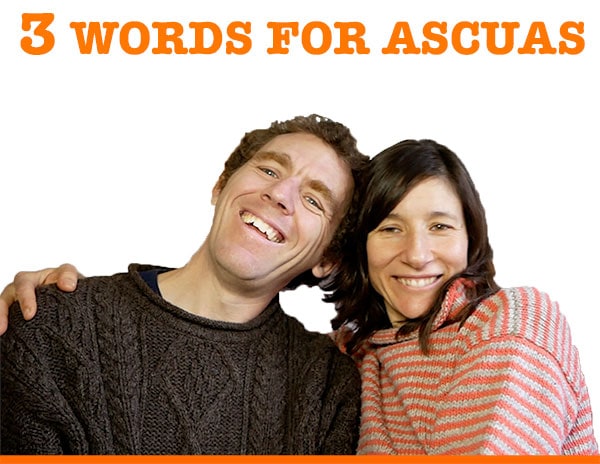 [Download as an MP3 by right-clicking here]
Welcome to episode 9 of 3 Words for Ascuas! This week Ben and Marina discuss wonderful Spanish words and phrases connected with the body, from peliagudo to pantorrillas and nudillos, plus great Spanish body jokes and listener contributions.
Subscribe to this podcast in: Apple Podcasts – Spotify – Stitcher – RSS Feed
Listen to our other podcasts for Beginners, Intermediate and Advanced.
Subscribe to our newsletter so you never miss an episode and other Spanish goodies!
THIS WEEK'S SHOW NOTES!
Ben in the waiting room…
Fisioterapeuta – Physiotherapist
Boca abajo – Face down
Boca arriba – Face up
Qué torcido vienes – You are all bent
Qué torcido estoy hoy – I'm really stressed, not myself today
Me he levantado torcido –  I've woken up in a very grumpy mood
Estar del revés – To be stressed, in a bad mood
Me he levantado del revés – I've got up in a terrible mood
In the Park…
Cachas – Muscly, hunky
Hair
Estoy de los pelos – I'm really stressed
Peliagudo – Tricky, difficult
Mejor dejamos el tema, que es un tema muy peliagudo – Better to leave this, it's a thorny subject
No me gusta ni un pelo – I don't like it one little bit
Por los pelos – Just in time
Cogimos el tren por los pelos – We just made it to the train
Tomar el Pelo – To pull someone's leg
No me tomes el pelo – Don't pull my leg
No te quedes conmigo – Don't pull my leg
Echar pelillos a la mar – To bury the hatchet, let bygones be bygones
Me cachis en la mar salada – Darn it (Note: Cachis has no separate meaning)
Face
Tener cara – To be cheeky
Ben menuda cara que tienes, haz las camas ya de una vez – Ben what a cheeky one you are, go and make the beds for once
Qué las hago yo todos los días – I make them every day
Yo tengo mis trabajos – I have my tasks
No tengas cara – Don't be cheeky
No tengas cara, te toca fregar – Don't be cheeky, it's your turn to do the washing up
Caradura – Cheeky
El pescadero es una caradura, me ha timado otra vez – The fishmonger is very cheeky, he ripped me of again
Eyes
¡Ojo! – Watch out!
¡Ojo! recién pintado – Watch out! Just painted
Ojo con el escalón – Mind the step
Ojo con mamá hoy, que se ha levantado del revés – Watch out for mummy today she woke up a bit grumpy
No pegar ojo – To have insomnia
No he pegado ojo en toda la noche – I haven't slept a wink all night
Joke
– Doctor, creo que necesito gafas.
– Estoy de acuerdo, pero no puedo ayudarle, ¡esto es un banco!
– Doctor, I think I need glasses.
– I agree, but I can't help you, this is a bank!
Ears
Regalar el oído a alguien – To flatter someone
Oír campanas y no saber de dónde vienen – To not to have a clue, to not have all the information
Nose
No me toques las narices – You're annoying me
Estoy hasta las narices – I'm fed up to the back teeth
Mouth
Eres un bocazas – You are a big mouth
Se me hace la boca agua – That's mouthwatering
No tiene pelos en la lengua – He speaks his mind, he doesn't hold back
Trabalenguas – Tongue-twister
El perro de san Roque no tiene rabo porque Ramón Ramírez se lo ha cortado
Teeth
A regañadientes – Reluctantly
Lo hice a regañadientes – I did it reluctantly
Chest
Pecho – Chest
Caja torácica – Rib cage
Tórax -Thorax
A chest Joke
– Doctor, mi mujer no para de regañarme. ¿Es grave?
– Será bronquitis.
– Doctor, my wife doesn't stop giving me a hard time, is it serious?
– That'll be bronquitis ('bronca' means rowing, scolding, so it's like 'scolding-itis')
Bronca – A telling off
No me eches la bronca – Don't tell me off
Le he echado una bronca que no veas – I gave him a real telling off
Belly
Hacer de tripas corazón – To grin and bear it
Hice de tripas corazón y me comí una hormiga – I plucked up the courage and ate an ant
Arms
Hablar por los codos – To talk the hind legs off a donkey, talk non-stop
Hands
Nudillos – Knuckles
Backside
Voy de culo – I'm really late
Me ha sentado de culo – It made me feel terrible, annoyed
Legs
Pantorrillas – Calf
Un esguince – A sprain
Dormir a pierna suelta – To sleep like a log
Dormir como un tronco – To sleep like a log
Me he levantado con el pie izquierdo – I got up on the wrong side of the bed today
Dale el pie y te tomará la mano – Give him an inch and he'll take a mile
Dale la mano y te tomará el brazo – Give him an inch and he'll take a mile (Marina's version)
Andar con mucho ojo – To keep your wits about you, to be very careful
Hay que andar con mucho ojo en la estación porque hay mucho mangui por ahí – Take care in the station, there are lots of pickpockets there
Feet
Esto no tiene ni pies ni cabeza – This makes no sense at all (e.g. the instructions to assemble something)
Dedos – Fingers and toes
Joke
¿Qué le dice la nariz al pañuelo?
– Creo que te conozco. Me suenas…
What does the nose say to the handkerchief?
– I think I know you. You look familiar/Can you blow my nose (Me suenas has this double meaning)
Art
My wife wanted to say, "Excuse me…is there a grocery store nearby?" But came out with:
¿Por favor, hay una grosería cerca? – Is there something really rude or coarse nearby?
Marina's words
Axila – Armpit
Sobaco – Armpit
Te canta el ala – Your armpit smells
Hígado – Liver
Hidalgo – Nobleman
Ben's word
Zurcir – To darn
We hope you enjoyed episode 9!
Remember! Listen to our main Spanish level podcasts here to learn even more real Spanish like this and get the worksheets in our store to make a HUGE difference to your Spanish.
Rate and review! If you listen to us on Apple Podcasts please do subscribe and leave us a rating and a review. ¡Gracias!
And do get in touch if you'd like to tell us a favourite word, phrase or personal Spanish anecdote, especially if it's related to clothes and fashion for next week's show. You can contact us here.
¡Mil gracias!