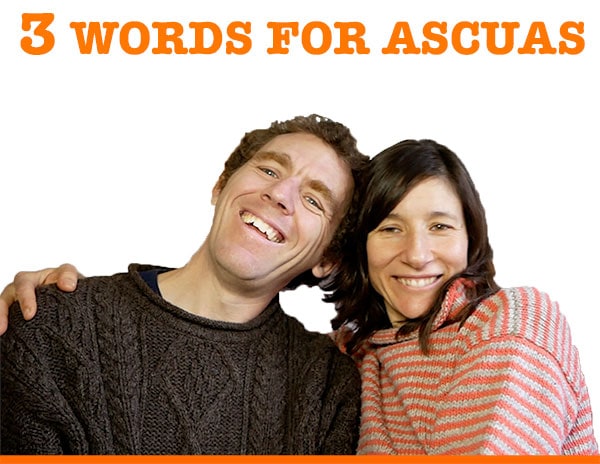 [Download as an MP3 by right-clicking here]
Welcome to episode 8 of 3 Words for Ascuas! This week Ben and Marina discuss wonderful Spanish food words and phrases, find out "quien corta el bacalao en casa", and why "¡no hay pan para tanto chorizo!"
Subscribe to this podcast in: Apple Podcasts – Spotify – Stitcher – RSS Feed
Listen to our other podcasts for Beginners, Intermediate and Advanced.
Subscribe to our newsletter so you never miss an episode and other Spanish goodies!
THIS WEEK'S SHOW NOTES!
Our Favourite Spanish Food Words and Phrases
Ponerse como un tomate – To go really red, to blush
Metí la pata en la reunión y me puse como un tomate – I put my foot in it in the meeting and I blushed like a tomato
Tienes un tomate – You've got a hole (in your clothes)
Tienes un tomate en tu calcetín – You've got a hole in your sock
Ir pisando huevos- To tread with care
Mi jefe se acaba de separar y hay que ir pisando huevos con ella – My boss has just separated and you have to tread with care around her
No está el horno para bollos – Be careful
No le pidas esto hoy a tu madre que no está el horno para bollos – Don't ask your mother for that today, she's up to her eyeballs with everything
Yo me lo guiso, yo me lo como – I do everything
En mi empresa yo me lo guiso, yo me lo como – At my company I do everything
Un guiso – A stew
Poner toda la carne en el asador – To go for it with everything you've got
Han empezado un nuevo proyecto y están poniendo toda la carne en el asador – They've stared a new project and they are putting life and soul into it
Cortar el bacalao – To be in charge
¿Pero aquí quién es quien corta el bacalao? – Who's in charge round here?
Mandón/mandona – Bossy
Le falta un hervor – He/She is a bit thick
A este chico le falta un hervor – He's a bit stupid, immature
Me han pillado con las manos en la masa – They caught me in the act
Llegaron a casa y pillaron al ladrón con las manos en la masa – They got home and caught the thief in the act
Como churros – Huge production, churning something out (like churros)
Hace cuadros como churros – She really churns out paintings
Lo que no mata engorda – What doesn't kill you makes you stronger
From our friend Mike (spainbymikerandolph.com)
Que te den morcilla – Get lost
Morcilla – Black pudding / blood sausage
Vete a freír espárragos – Get lost
Me importa un pimiento – I don't give a damn
Más aburrido que una ostra – Completely bored
Es más bueno que el pan – He's a lovely person
Es la leche – It/he/she's incredible (person, film)
Tener mala leche – To be in a really bad mood or a bad-tempered person
El profe de musica tiene muy mala leche – The music teacher is very bad tempered
Chorizo – A petty thief, or corrupt politician
No hay pan para tanto chorizo (grafiti) – There isn't enough money for so many greedy politicians
Has ganado el jamón – When you pull off something amazing
Vete a casa que hoy te has ganado el pan – Go home you've earned your wages today
Dar la vuelta a la tortilla – To turn the tables, to make a sudden change for the better
Arthur
Estoy canina – I'm very hungry / I'm starving
Zampar – To eat (slang)
Me lo voy a zampar entero – I'm going to gobble it all down
Callos – Tripe
Albaricoque – Apricot
Berenjena – Eggplant / Auberjine
Naranja – Orange
Aguacate – Avocado … from the náhuatl word "ahuacatl", meaning testicle
Criadillas – Testicles
Sesos – Brains
Me he puesto las botas – I'm really full/stuffed (in a good way)
Buen Provecho / Qué Aproveche – Enjoy your meal
The Joke
– ¿Por qué los españoles comen caracoles?
– Porque no les gusta la comida rápida.
– Why do the Spanish eat snails
– Because they don't like fast food
Richard
¿Tiene burro por favor? – May we have some donkey please?
Mantequilla – Butter
Marina's words
Rodaballo – Turbot
Hinojo – Fennel
Ben's words
Glotón – Glutton
Comilón – Someone who eats a lot
Borraja – Borage
Acelgas – Chard
Un manjar – A real treat, a delicacy
Sibarita – Gourmet, lover of fine things
Soy un poco sibarita – I like the finer things in life
Our Spanish Food Videos
Our Spanish Table Manners Video
The Learn Spanish Fruit and Vegetables Video Quiz!
Our Spanish Food Podcasts
Intermediate Spanish Podcast 14 – Tapas
Intermediate Spanish Podcast 28 – Comida Rápida
Intermediate Spanish Podcast 36 – Comer fuera
Advanced Season 2 – Ep.5 – Un Mundo Bio
Advanced Season 2 – Ep.17 – La Etiqueta en España
Advanced Season 3 – Ep.4 – Codos en la mesa
Advanced Season 3 – Ep.12 – Culto a la Gamba
We hope you enjoyed episode 8!
Remember! Listen to our main Spanish level podcasts here to learn even more real Spanish like this and get the worksheets in our store to make a HUGE difference to your Spanish.
Rate and review! If you listen to us on Apple Podcasts please do subscribe and leave us a rating and a review. ¡Gracias!
And do get in touch if you'd like to tell us a favourite word, phrase or personal Spanish anecdote, especially if it's related to the body for next week's show. You can contact us here.
¡Mil gracias!