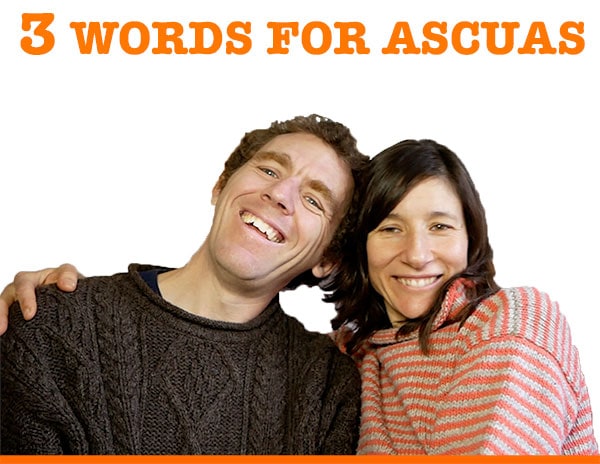 [Download as an MP3 by right-clicking here]
Welcome to episode 6 of 3 Words for Ascuas! This week Ben and Marina discuss Spanish false friends, and Spanish words that can trip us up and cause us huge embarrassment, with lots of great listener stories to illustrate the point!
N.B. This episode contains explicit content.
Subscribe to this podcast in: Apple Podcasts – Spotify – Stitcher – RSS Feed
Listen to our other podcasts for Beginners, Intermediate and Advanced.
Subscribe to our newsletter so you never miss an episode and other Spanish goodies!
THIS WEEK'S SHOW NOTES!
Download: Notes in Spanish Falsos Amigos Special Report PDF
Sensible – Sensitive
Es una persona muy sensible – He/she is a very sensitive person
Sensato – Sensible
Ha sido una respuesta muy sensata – That was a very sensible answer
Compromiso – Commitment
Se que te encantaría ir mañana con tu amigo pero tienes un compromiso conmigo para acompañarme a Ikea – I know you'd love to go with your friend tomorrow, but you've got a commitment to accompany me to Ikea
Ya tengo un compromiso – I've already got a prior engagement
The top 5 Spanish false friends
1. Embarazada
Estoy embarazada – I'm pregnant
Estoy avergonzado/a – I'm embarrassed
Tengo verguenza – I 'm embarrassed
2. Pollo/a
Un bocadillo de pollo – A chicken sandwich
Un bocadillo de polla – A penis sandwich

Pollo deshuesasdo – Boneless chicken
Polla desordenado – Disordered penis
3. Penes

Peine – Comb
Pene – Penis
Pinos – Pines
Tengo un jardín lleno de penes – I have a garden full of penises
Tengo un jardín lleno de pinos – I have a garden full of pines
4. Preservativos
Preservativos – Condoms
Conservantes – Preservatives
Me gustan los sándwiches de esa tienda, porque no contienen preservativos – I like the sandwiches in that shop, because they don't have condoms in them
Condón – Condom (slang)
5. Cojones
Cajones – Drawers
Cojones – Balls/testicles
Conejos – Rabbits
Que cojones más bonitos – What beautiful balls
Que cajones más bonitos – What beautiful drawers
Los cojones han destrozado mi jardín – The balls have destroyed my garden
Los conejos han destrozado mi jardín – The rabbits have destroyed my garden
Mira los cojones de chocolate – Look at the chocolate testicles
Mira los conejos de chocolate – Look at the chocolate rabbits
This week's joke

— ¿Qué le dice una barra de pan a otra?
— Te presento a una miga.
– What does one loaf of bread say to the other
– I'd like to introduce you to a friend (una amiga) / a bread crumb (una miga)
Karen's story
Hola, soy tu vecino – Hello, I'm your neighbour (not 'besino' – little kiss)
Maggie

El ano pasado – The past anus
El año pasado – Last year
Rob
Nosotros cogemos un taxi en el aeropuerto – We'll get a taxi at the airport
This sentence is fine as translated above in Spain, but in Mexico and Argentina, 'coger' means 'to have sex with', so in those countries this sentence would mean, 'we'll have sex with a taxi at the airport'. In those countries please use 'tomar' instead of 'coger'.
Quincy
No soy listo – I'm not clever
No estoy listo – I'm not ready
Paul
La gaita irlandesa, la flautista, la guitarrista, la acordeonista, y el violador – The Irish bagpipes, the flautist, the accordion player, and the rapist
Violinista – Violin player
Violador – Rapist
Chris
Estaba en la carnicería. Habían puesto las longanizas y las chuletas en una bolsa – I was in the butchers, they'd put the sausages and the chops in a bag
– ¿Algo más? – Anything else?
– Sí, ponme 500 gramos de ternura picada, por favor – Yes, I'll have 500 grams of tenderness/fondness please
…nada de cariño, cariño – mejor dicho un poco de ternera – no sweetness, sweetie, I think you mean a bit of veal
Laurence
Quiero aprender Español contigo. Estoy muy excitado –  I want to learn Spanish with you. I'm sexually aroused
Estoy muy ilusionado – I'm very excited
Tengo muchas ganas – I'm very excited
Estoy muy emocionado – I'm overcome and emotional
Estoy encantado con la clase – I'm delighted with the class
We hope you enjoyed episode 6!
Remember! Listen to our main Spanish level podcasts here to learn even more real Spanish like this and get the worksheets in our store to make a HUGE difference to your Spanish.
Rate and review! If you listen to us on Apple Podcasts please do leave us a rating and review. ¡Gracias!
And do get in touch if you'd like to tell us a favourite word, phrase or personal Spanish anecdote for next week's show concerning the weather. You can contact us here.
¡Mil gracias!