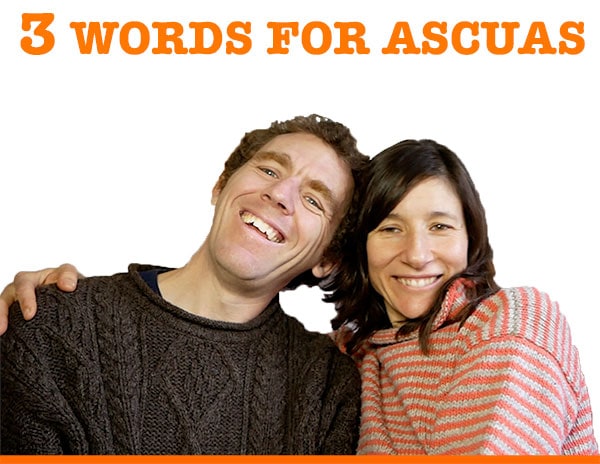 [Download as an MP3 by right-clicking here]
Welcome to episode 5 of 3 Words for Ascuas! This week Ben and Marina look at Spanish words and phrases for laughter, funny Spanish films, share Spanish jokes and listener stories, and much more.
Subscribe to this podcast in: Apple Podcasts – Spotify – Stitcher – RSS Feed
Listen to our other podcasts for Beginners, Intermediate and Advanced.
Subscribe to our newsletter so you never miss an episode and other Spanish goodies!
THIS WEEK'S SHOW NOTES!
Valerie's Story
Borrascas – Storm, low pressure area
Borrachos/as – Drunkards
El que tiene boca, se equivoca – Whoever has a mouth will get things wrong
Gary's Story
Muslos de codorniz – Quail's thighs
Mejillones – Mussels
Laughter
Partirse de risa –  To laugh your head off
Me parto de risa – I laughed my head off
Me parto – That's hilarious
Se parte – He's laughing his head off
Reírse a carcajadas – To laugh out loud, a lot
Cada vez que nos acordamos de lo que nos paso ese día, nos reímos a carcajadas – Every time we remember what happened that day, we roll around on the floor laughing
Reírse a mandíbula batiente – To laugh a lot (literally, with a swinging jaw)
Me troncho – That's hilarious
Tronchar – To break (e.g. a stick)
Una broma  – A practical joke
Un chiste  – A joke you tell someone
Gastar una broma – To play a practical joke
Funny films we like…
Lepe jokes – listen to Advanced Spanish Podcast 57 – Lepe
Está un poco pasado de moda – It's a bit out of fashion
Jokes
En la Farmacia:
— ¿Tienen pastillas para el cansancio?
— Están agotadas
*** *** ***
— ¿Cuánto cuesta alquilar un coche?
— Depende del tiempo.
— Vale, pongamos que llueve.
Arthur's words
El Abecedario – The Alphabet
Tomar el pelo – To kid, to joke
No me tomes el pelo – Don't joke with me
Madre mía me han tomado el pelo en el trabajo – They really played a joke on me at work
Si te timan – If they con you / rip you off
Te han tomado el pelo – They've conned you
Brandon
Poco a poco – Bit by bit
No hay prisa – There's no hurry
Las cosas de palacio van despacio – Bureaucracy takes its time, goes slowly / some things just take their time
Bob
Está en el quinto pino – It's really far away
El que se fue a Sevilla perdió su silla – If you get up you lose your chair (literally, whoever went to Seville, lost their seat)
Marina's words
Estar muy atento/a – To keep your eyes open
Abrir bien los ojos – To keep your eyes peeled
Ben's words
Un jabalí – A wild boar
Este se lleva por delante a cualquiera – That'll knock someone flying
We hope you enjoyed episode 5!
Remember! Listen to our main Spanish level podcasts here to learn even more real Spanish like this.
And do get in touch if you'd like to tell us a personal anecdote for next week's show concerning false friends, or an amusing story involving getting something slightly wrong in Spanish. You can contact us here.
¡Mil gracias!