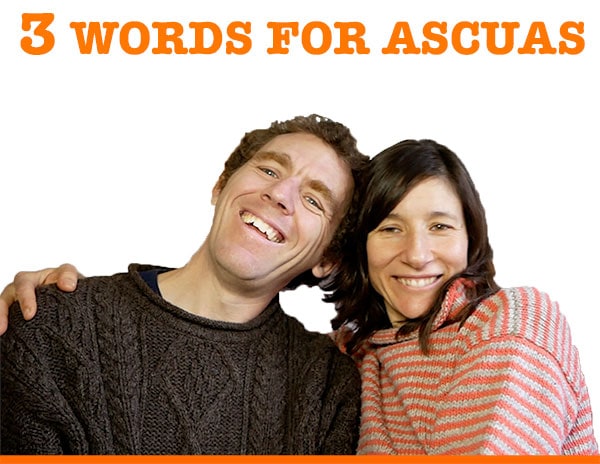 [Download as an MP3 by right-clicking here]
Welcome to episode 3 of our new podcast for real-Spanish lovers! This week, Ben and Marina discuss refranes, swearing, eggs, great questions and Spanish words from listeners, and much more. Please note, some explicit words are used in this episode.
Subscribe to this podcast in: Apple Podcasts – Spotify – Stitcher – RSS Feed
Listen to our other podcasts for Beginners, Intermediate and Advanced.
Subscribe to our newsletter so you never miss an episode and other Spanish goodies!
THIS WEEK'S SHOW NOTES!
Eggs…
Eres un tocahuevos – You are annoying
Tiene huevos Susana – Susana has got balls
¡Los tiene cuadrados! – She's got real balls! (literally, she's got them square)
No se achanta con nada – She's not scared of anything or anyone
No se echa para atrás – She doesn't back down
No tiene miedo – She's not scared
Con un par de huevos – Boldly, bravely
Hay que echarle huevos – You've got to do it boldly
Eres un huevón – You are slow, lazy
Un holgazán – A layabout
Eres un holgazán – You are a layabout
Swear words…
Jo'er – Damn it /Sh*t
Joder – F*#@
Jolines – Gosh
Jo – Gosh /Goodness me
Proverbs and sayings that rhyme…
Y con esto y un bizcocho, hasta mañana a las ocho – We're done / Until next time
Albacete, caga y vete – Albacete, shit and leave
Pa'lante como los de Alicante – Let's get on with it / let's get going
A quien madruga, Dios le ayuda – God helps those that get up early
El que tiene boca se equivoca – Whoever has a mouth, is bound to get things wrong
Hablando del rey de Roma, por la puerta asoma – Speak of the devil (literally, Speaking of the King of Rome, he appears at the door)
El que a buen árbol se arrima, buena sombra le cobija – Stick by good people and it will rub off on you (literally, he who sticks close to a good tree, is protected by good shade)
Cada cual en su corral – Mind your own business (literally, each one in their own chicken hutch)
De grandes cenas están las sepulturas llenas – Tombs are filled by large suppers
Un refranero/a – Someone who uses a lot of proverbs
The Joke…
— Mamá, en el cole me llaman despistado – Mummy, at school they call me dreamy
— Niño, que esta no es tu casa – Kid, this isn't your house
Eres un/a despistado/a – You are a real dreamer
Words with 2 'o's…
Bobo – Stupid
Eres un bobo – You are a bit stupid/a bit of a clown
Un coco – A coconut, head
Tiene coco – He's intelligent
Le da mucho al coco – He's always thinking too much
Un dodo – dodo
Fofo – flabby
La chicha – Flabby bits of a tummy
Una gogó – A gogo dancer
Lolo/a – Teenager
Momo – Clowning/joking
Nono/a – Grandpa, grandma
Abuelo/a – Grandpa, grandma
Yayo/a – Grandpa, grandma
Ñoño – Whiny
No seas ñoño – Don't be such a whiner
Popó – Poop
Soso – bland (lacking salt)
Es muy soso – He is very lifeless, limp
Un yoyó – Yoyo
Ñiquiñaque – Trash, rubbish, worthless individual
The torta story…
De chica – When I was a young girl
Una torta de aceite – A large, round, cake-like biscuit
'Abuela, ¡dáme una torta!' – Granny, give me a biscuit
'¡Toma, una torta!' – Here, have a slap!
Los auriculares – Headphones
We hope you enjoyed episode 3!
Remember! Do get in touch if you'd like to ask a question about words or phrases you don't understand, share favourite words and phrases in Spanish, suggest a theme for an episode, or tell us a personal anecdote concerning a great Spanish word or phrase. You can contact us here.
¡Mil gracias! And remember to carry on with our main Spanish level podcasts here to learn even more real Spanish like this!