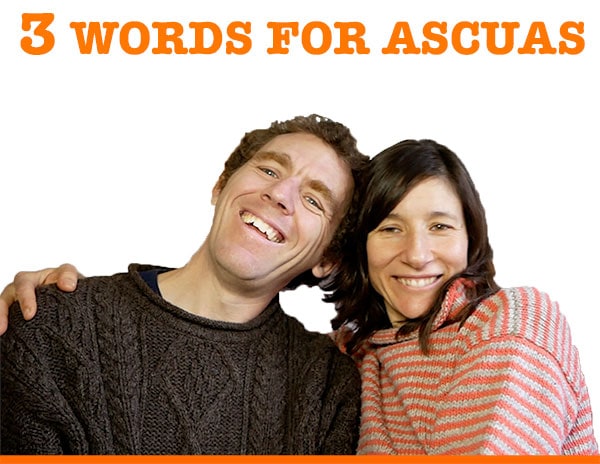 [Download as an MP3 by right-clicking here]
Welcome to our new podcast! Ben and Marina dive into the wonderful world of straight-from-the-streets Spanish words and phrases that make learning this wonderful language a complete delight! This week, what Ben learnt from irate taxi drivers, 3 words for ascuas (glowing embers) and why these embarrassed Marina!
This podcast is for all levels – knowing wonderful words in Spanish will enhance your joy of Spanish even if you are a beginner! Just remember the ones you love 🙂
Subscribe to the podcast in: Apple Podcasts – Spotify – Stitcher – RSS Feed
Listen to our other podcasts for Beginners, Intermediate and Advanced.
Subscribe to our newsletter so you never miss an episode and other Spanish goodies!
THIS WEEKS SHOW NOTES!
La madre que te parió – Son of a #x@!x!
Fenomenal – Fantastic
Vamos al lío – Let's dive right in
Eres un fenómeno – You're great, unbelievable, one of a kind
¿Qué tal estás? … Bueno, estoy – How are you? Well, I'm alive
¿Qué tal estás? … Estoy, que no es poco – How are you? I'm alive, which is a good start
Apático – Apathetic
Estoy más feliz que un regaliz – I'm very happy (regaliz is licorice)
Chachi piruli – Super duper
Marina's favourite words:
Mágico – Magic
Un prestidigitador – Conjuror
Una meiga – A witch in Galician Spanish
Un hechicero – A wizard
Echar un hechizo – To cast a spell
Un murciélago – A bat – this word has all 5 vowels!
Ben's favourite words:
Un hito – A pile of stones to mark the way in the mountains, or a milestone
Un llano – A flat area of land in the mountains, or a plain
¡Qué cheto! – How cool (similar to ¡Qué guay! or ¡Qué chulo!)
Un pico – A peak of a mountain
A joke from our friend Mike Randolph
Un pato y un niño nacen el mismo día. Al cabo de un año, ¿cuál es mayor, el pato o el niño?
El pato. Porque tiene un año y pico.
Which translates as… A duck and a boy are born on the same day. At the end of one year, who is older, the duck or the boy? The duck, because he is one and a bit (it's a play on words – 'y pico' means 'and a bit', but 'pico' is also a beak – the duck has a beak, so he is a 'bit' older).
Ben's sister Rebekah's favourite Spanish words
3 words for ascuas (the glowing red embers of a fire): Ascuas, Brasas, Rescoldos.
Apelotonarse – To group together (reminds Ben of despelotarse – to take all your clothes off , and estar en pelotas – to be naked)
Resaca – Hangover, or the undertow from receding waves
Mofletes – Chubby cheeks
¡Qué rico! ¡Qué mono! – What a sweety
Está para comérselo – he/she is edible
¡Qué te como! – I'm going to eat you up!
Una carícia – a stroke
Espeluznante – blood curdling, spooky
Other words for happiness we found at www.sinónimo.es
Alborozo – happiness
'Que alegría, que alborozo, otro perrito piloto' – What happiness, what joy, another pilot dog
Bienandanza – Happiness
Bienaventuranza – Blessed
"Bienaventurados los misericordiosos, porque ellos alcanzarán misericordia" – Blessed are the merciful because they will be shown mercy.
La bienaventuranza gitana – Gipsy fortune telling
"Dame la mano que te voy a leer la bienaventuranza" – Give me your hand, I'm going to read your fortune
Questions and Answers!
Evan:
"I hear en plan all the time in Castilian Spanish and even after looking up its meaning on the web I'm still super confused about how to use it correctly?"
No te pongas en plan chulo – Don't act in that cocky kind of way with me, don't get all cheeky with me
Se puso en plan chulo conmigo  – He got all kind of cocky with me
Vamos a salir en plan tranquilo esta noche – Let's have a kind of quiet night out tonight
Kenneth
"Looking forward, as always, to this new series! Please consider fully explaining "Al lío"… many times we hear Vamos al lío. Muchas gracias Ben y Marina."
Vamos al lío – Let's get going, let's get on with it.
A por ello – Let's get going
Vamos a meternos en faena – Let's get to work
Que faena / Menuda faena – What a mess
Tengo mucha faena hoy – I'm very busy today (housework, or manual work)
Y con esto y un bizcocho, hasta mañana a las ocho – We're done!
Y con esto y un bizcocho – That's it for today!
We hope you enjoyed the new show!
Do get in touch if you'd like to ask a question about words or phrases you don't understand, if you'd like to tell us your favourite words and phrases in Spanish, or if you'd like to suggest a theme for an episode (e.g. wonderful words to do with the weather). You can contact us here.
¡Mil gracias! And remember to carry on with our main Spanish level podcasts here to learn even more real Spanish like this!