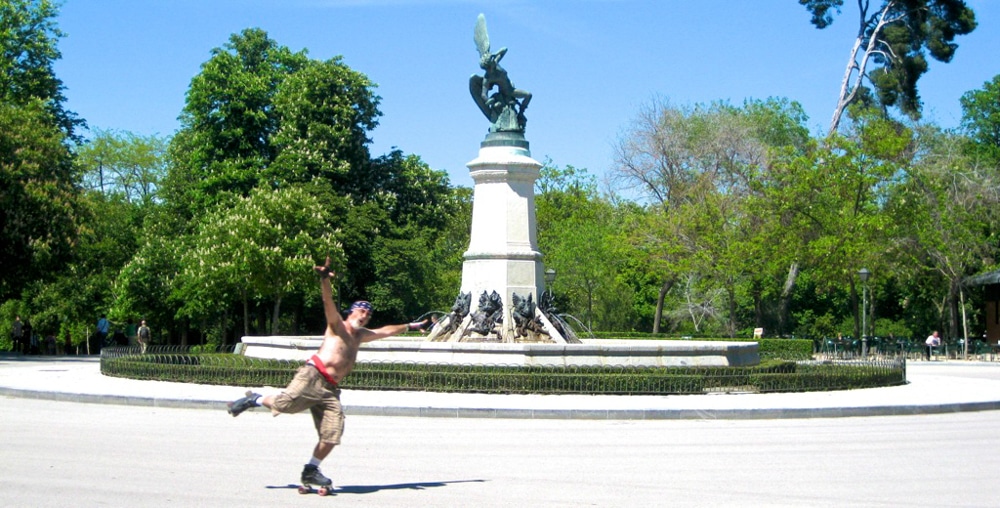 Photo: A legend of play in Madrid's Retiro Park


Today, Ben and Marina discuss the sociology and practice of play, and why it is so important in both children's and adults' lives. We talk about how play fits in to our own lives (it can be as simple as riding a bike!), plus how difficult it can be for adults to just let go and have a fun, purpose-less time.
Double your Spanish with the Transcripts! Become a Patron to Supercharge your Spanish!
The new Notes in Spanish Conversations audios have new transcripts, including a full transcript of everything we say (so you miss nothing!), and a special list we call 'Real, Essential Spanish', everything from today's audio that we feel you must know to be very good at Spanish no matter what your level!
We are delivering the transcripts via the popular crowd-support website Patreon.com:
CLICK HERE TO BECOME A PATRON AND GET THE WEEKLY TRANSCRIPTS! – They will help improve your Spanish much faster!
PLUS! Become a Patron, and you get the 'Real Spanish Archives' 18-page BONUS! (…and other rewards!)
We hope listeners of all levels will consider becoming a Notes in Spanish Patron even if you don't need the transcripts right now, it's a wonderful, innovative way to support our work and your Spanish at the same time!
Help us get the word out!
– Subscribe to the Podcast in Apple Podcasts – And do leave us a review in Apple Podcasts if you can, it'll help get the word out!

Un abrazo desde Madrid!
Ben y Marina
DONATE! Your donations and purchases help us to keep going! If you just feel like supporting these free audios, donations are welcome via our Donate page. ¡Mil gracias!
🙂
PLUS! Make sure you are on our Spanish-packed newsletter list!
You get our
free Kickstart Your Spanish report and our Super Subjunctive Rule book
- plus news of our new audios and videos, and great phrases in every newsletter!
Sign up here now!