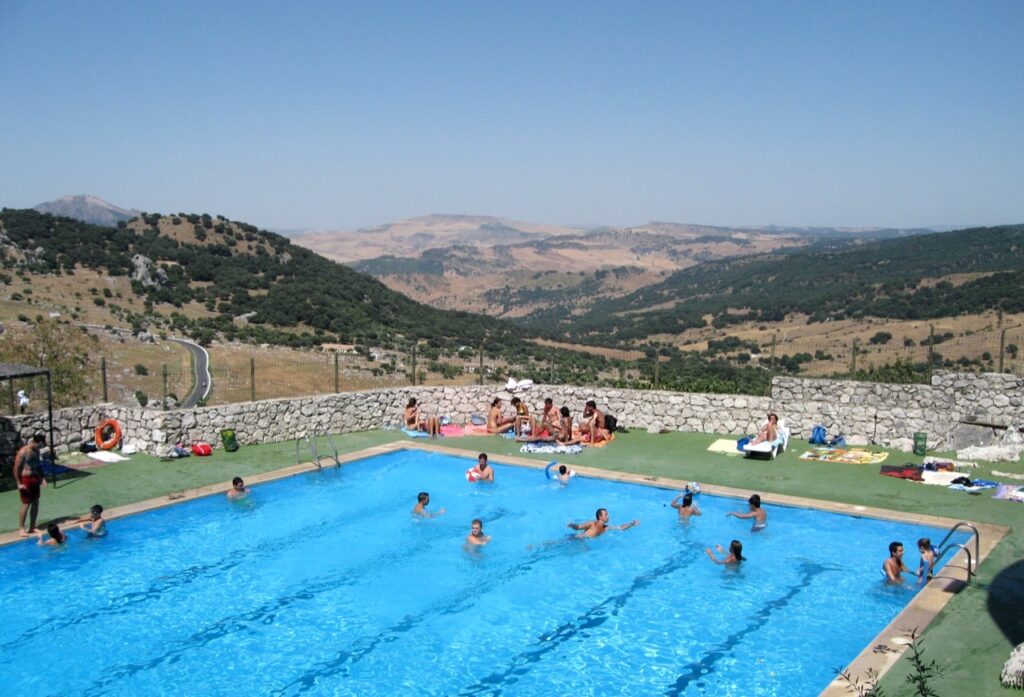 Photo: La Buena Vida – The good life in one of Andalusia's pueblos blancos


Welcome to Notes in Spanish Conversations! Our Brand-New Weekly Real Spanish conversations for Advanced and Inspired Intermediate Spanish learners, designed to help you learn all the real Spanish you'll never find in a classroom! A new episode every Monday!
Today, Ben and Marina discuss La Buena Vida, the good life in Spain – Spain's version of Hygge – all the elements of Spanish life that lead to great happiness, from tapas to terrazas, long lunches, the sobremesa and more.
Important Information For Everyone! Transcripts, The 18-page 'Real Spanish Archives' Bonus, Subscribing and Listening Tips!
1. Become a Patron – Get the Transcripts – Support your Spanish and our work!
The new Notes in Spanish Conversations audios have new transcripts, including a full transcript of everything we say (so you miss nothing!), and a special list of 'Real, Essential Spanish' from the audio that we feel you must know (no matter what your level!)
We are delivering these weekly transcripts, in time with the weekly audios, via the popular crowd-support website Patreon.com. It's widely used, and a fantastic way for our listeners to support our work and get our new transcripts (as well as other great Bonuses!)
CLICK HERE TO BECOME A PATRON AND GET THE WEEKLY TRANSCRIPTS!
2. Become a Patron, get the 'Real Spanish Archives' 18-page bonus!
We hope listeners of all levels will consider becoming a Notes in Spanish Patron even if you don't need the transcripts right now, it's a wonderful, innovative way to support our work (and your Spanish!)
Plus every Patron gets a copy of our brand new 18-page 'Real Spanish Archives' PDF report (the very best Real Spanish we've sent out over the last 12 years).
SEE THE VIDEO ON OUR PATRON PAGE FOR MORE DETAILS!
3. Subscribing to the new Conversations podcast in Apple Podcasts and other apps – Help us get the word out!
The new Notes in Spanish Conversations audios will be released weekly on Mondays and put out on a brand new podcast feed. (Episode 2 will be out on Monday November 12th)
If you haven't subscribed yet:
– Subscribe to the Podcast in Apple Podcasts/iTunes – And do leave us a review in Apple Podcasts/iTunes if you can, it'll help get the word out!
– Search for 'Notes in Spanish Conversations' in your favourite podcast app, including Spotify.
– Here's the raw RSS feed if you want to enter it manually: http://nisconversations.libsyn.com/rss
4. Tips on How to Use the Notes in Spanish Conversations Audio
Advanced Learners: Listen to the audio the whole way through. Listen again with the transcript to make sure you don't miss a thing, and to be sure you know all the 'Real, Essential Spanish' we outline in the second part of the transcript, it's really important at your level.
Inspired Intermediate Learners: Don't panic if the Spanish feels really challenging! It should! Listen to the Spanish conversation, ideally with the transcript – we promise that no matter how challenging this may seem, this 'real immersion', with the transcript to help, is the best possible thing you can do for your Spanish!
As Kathleen said about our previous advanced conversations, "I'm one of those you describe as a 'motivated intermediate'. I want to assure others in that category that this podcast is definitely approachable with the aid of the notes [transcript]. I wasn't surprised that I understood little listening to the podcast without the notes, but I was amazed at how much I could understand having the notes to read alongside."

Un abrazo desde Madrid!
Ben y Marina
DONATE! Your donations and purchases help us to keep going! If you just feel like supporting these free audios, donations are welcome via our Donate page. ¡Mil gracias!
🙂
PLUS! Make sure you are on our Spanish-packed newsletter list!
You get our
free Kickstart Your Spanish report and our Super Subjunctive Rule book
- plus news of our new audios and videos, and great phrases in every newsletter!
Sign up here now!