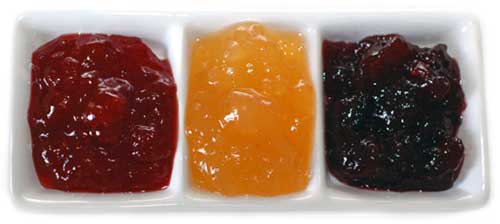 False Friends: Don't get your marmalades mixed up!
To celebrate the public launch of Notes in Spanish Gold (our best audio ever!) we've got another great free report for you, with a huge list of over 50 crucial Spanish false friend pairs.
You can download the report below, but do read this classic Spanish-confusion-nightmare tale first:
Why are False Friends important? Some of you may have heard this story before, but it's worth repeating as a bit of a warning!
NIS listener Courtney sent us this great confession recently, about a somewhat embarrassing experience during the very first day with her host-family in Spain:
"Nunca lo olvidaré: Yo desayunaba con mi nueva "familia" española el primer día que yo llegué a su apartamento en Salamanca. Yo comía un pan dulce con una mermelada bien sabrosa. Les dije a mis "padres": "¡Ay, que rico! Me encantan estos preservativos…."
At which point the whole family fell about laughing! Courtney, trying to be nice about their preservative jam, had just told them how much she loved their condoms!
The word she was looking for was "mermelada", of course!
The special false friends report we're giving away here to celebrate the launch of Notes in Spanish Gold this Monday, has a list of over 50 of these tricky false friend pairs, to make sure you never make an error like that one!
Download it here now:
Download: Notes in Spanish Falsos Amigos Special Report PDF
Important Extra News:
1. If you haven't got our Spanish Subjunctive 21 page report yet (that basically demystifies it forever!), then get it here right now.
2. Did you see this weeks videos yet? If not, do check out the latest, 'Our Big Vice', with the brand-new analysis section in the second half (a winning concept taken straight from our new Gold audio). Watch it here.
2. Notes in Spanish Gold has previously only been for a handful of private members. This is our best work yet! We can't wait until everyone gets a chance to find out…
Update: Notes in Spanish Gold is available now in our store!